Main content
René LaVice on the tracks that shaped Drum & Bass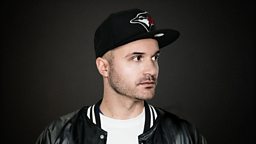 One of the most influential and respected sub-genres in dance music, since the mid 1990s drum & bass has been a pillar of dancefloors the world over.
Something of a homegrown hero, drum & bass's roots are firmly planted in the UK's heady jungle scene, which followed the ravey acid house movement to pitch big, shuddering basslines against superfast breakbeats and reggae samples, creating a vibrant sound unlike anything that had gone before. While the more commercial big beat and clubby hard house sounds reigned supreme, drum & bass was always the most effortlessly cool of the 1990s club sounds, with figureheads like former graffiti artist Goldie, Andy C and the jazz-inspired Roni Size digging into the UK's Afro-Caribbean soundsystem culture and fusing it with dancehall influences and hip-hop breakbeats to create something fresh, exciting and impossible to ignore.
Following its British birth and record labels like Metalheadz, which was started by Goldie and legendary female duo Kemistry & Storm, the genre went global and in the 2000s artists like Australia's Pendulum would headline festivals with their hard-edged take on drum & bass, while its impact can be felt in the shuddering bass of grime and the sparse stylings of dubstep.
Drum & bass has now captured the public imagination for a quarter of a century and shows no signs of slowing up. One of the world's biggest authorities on the iconic sound, René LaVice - pictured above - has hosted Radio 1's Drum & Bass Show for the past three years and the Canadian-born DJ and producer can be counted on to air the freshest new sounds as well as all time classics.
If you fancy getting an education in drum & bass, then René has brought together special Originators mixes from the founders of the genre, available now on BBC Sounds. With everyone from Roni Size to former Drum & Bass Show hosts Fabio & Grooverider as well as those that followed in their groundbreaking footsteps, like Mampi Swift and Netsky, all sets are available until February 9 2021.
With René bringing together pillars of drum & bass for these special mixes, he's also provided a guide to some of the tracks that have shaped the genre since it crashed into view, picking five of its most influential to get you started on the road to drum & bass perfection.
Disclaimer: Videos below are from an outside source and are not affiliated to the BBC.
René says: "This track was a runaway hit which marked a departure from the UK hardcore sound, which was popular at the time. It was far more cool and minimal in its approach, and it was produced and pressed to vinyl in such a way that it sounded epic in the clubs and raves. AKA - it was super loud."
René says: "The great thing about 'Messiah' is that it was a combination of very high level production with a track which was truly epic thematically. The way this track blew people's minds in headphones and ignited dancefloors at the same time made it a constant reference point for the genre's top producers. Years later, the next generation of D&B mega stars like Pendulum and Noisia would still be citing it as an example of technical mastery few others can achieve."
Marcus Intalex & ST Files - 'How You Make Me Feel' (2000)
René says: "'How You Make Me Feel' stood out as an inflection point where drum & bass demonstrated as a genre that it could fuse the vibe and the feel of techno and deep house into something that's both smooth and rough at the same time. It became something that had a different kind of 'soul'. This vibe is something producers and DJs would draw from for years to come and it's something that became synonymous with not only Intalex's music but the genre of D&B as a whole."
René says: "'Whiplash' was quite a different sounding banger at the time. A few other artists made tracks with similar elements, but this track has a level of tension that those tracks didn't have. The "Drop" vocal right before the 808s come in was just the right about of tongue and cheek that gave the track just enough theatrical dancefloor appeal while still retaining its coolness. Often the one track that's a bit 'different' in any given year ends up being the big smash. This is one of those tracks."
René says: "When top DJs heard the all-out energy and unbelievably nimble production of Pendulum's 'Vault' they laughed at the thought of them topping it. Then, of course, they did. And then they did it again. And again. The thing that set 'Slam' apart was the fact that it was an incredibly melodic crossover hit, which was an absolute dancefloor weapon and fantastic DJ tool at the same time. The rock music and theatrical influence the Australian trio incorporated into their sound became something that continued to push the envelope of how D&B defined itself in terms of sonic signature."