Main content
Macbethathon at the Edinburgh Festival Fringe
This year's Edinburgh Festival Fringe has gone crazy for Shakespeare in his 400th anniversary year.
To mark this special occasion we've sent our-own intrepid Lady Macbeth, Lindsey Chapman, on a murderous #Macbethathon challenge.
But just how many Macbeths she can shake a dagger at over one day of toil and trouble? Find out on BBC Shakespeare's Facebook page on Twitter and on the BBC Edinburgh Festival Live Page
Keep up to date with all the comic capers from the Macbethathon and across the Edinburgh Festival on the BBC Live page

A pioneering partnership produced by the BBC and British Council with partners The RSC, Shakespeare's Globe, BFI, Royal Opera House and Hay Festival.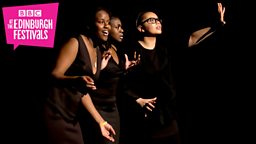 TWIST Theatre Company presents a Macbeth/Empire mash-up at the Edinburgh Fringe
This year's Edinburgh Fringe is having Shakespeare for Breakfast, Lunch and Dinner with a typically multifarious line-up of Bardulation.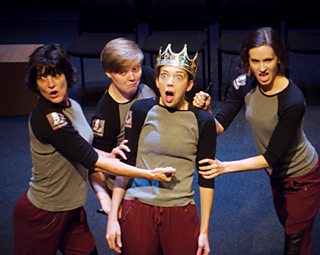 30 Shakespeare Scenes in 60 Minutes
Double, double toil and trouble; Fire burn, and cauldron bubble
From the darkly brooding drama of Macbeth Without Words to the grime and afrobeat vibe of TWIST theatre's Shakespeare/Empire R&B Macbeth.
In Shakespeare Syndrome Macbeth and Lady Macbeth pay a visit to Dr Bard, but how will they respond to the inkblot test?
Shakespeare Bingo - a cast of 4 perform whichever scenes the audience shout-out, with a pie in the face if they don't complete 30 scenes in 60 minutes.
And that's not to mention Macbeth performed by sock-puppets or Shakespeare's famous whodunit set in a young offenders' institution.
Just some of the Macbeth-mayhem that Lindsey will tackle as she screws her courage to the sticking place in a whole load of sound and fury...
Lay on the #Macbethathon! Saturday 13 August on Facebook/BBCShakespeare @BBCShakespeare and BBC Live at the Edinburgh Festivals
The latest news and updates from the Edinburgh Festivals: Official, International, Fringe, Book, Art and Military Tattoo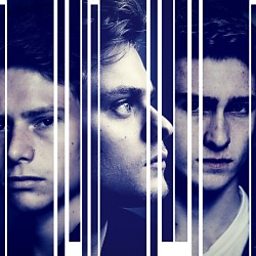 Act Three Theatre present Macbeth set in a young offenders' prison
Witch, Dagger, Cauldron - Lindsey Chapman demonstrates how to play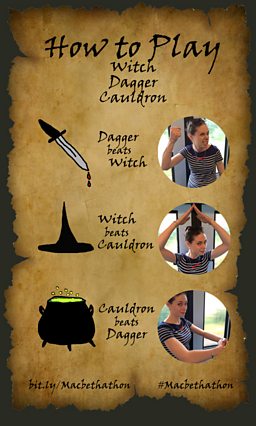 How to play Witch, Dagger, Cauldron
It's not an Olympic sport yet but what's Rio's loss is our gain. We're calling it Game of Bones and it's based on the hopefully not copyrighted Rock, Paper, Scissors. So what are the rules?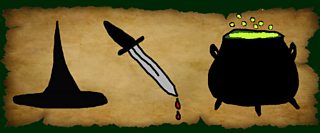 It's a two-player game – where each contestant, after the count of three, simultaneously mimics with their hands either a witch, a dagger or a cauldron. The winner of the game is crowned in a blaze of glory in a best of three games.
So what beats what?
You know, just go with us on this:
Dagger beats Witch – because, well daggers are not nice
Witch beats Cauldron – because, well, something had to beat cauldron and witches have spells
Cauldron beats Dagger – because, well, you could melt a dagger in a cauldron couldn't you?
What if you do the same thing?
That's a tie. Just keep playing until you've got a winner from a best of three. Or you get bored.
Who would win? Macbeth or Lady Macbeth?
She's cunning that Lady Macbeth, but then Macbeth is ruthless. I think you'd want to lose to either of them though, fearful of the consequences if you won.
And that's it?
And that's it. If it's not in the competition line up when the Olympic games eventually reaches Scotland well, that would be a tragedy.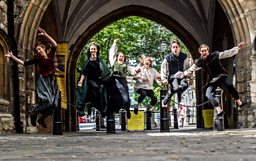 Impromptu Shakespeare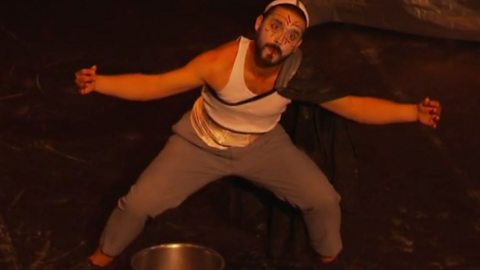 Drawing from the silent film era, watch a preview of this Edinburgh Fringe show.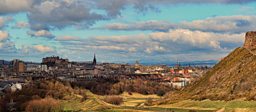 The Edinburgh skyline