Main content
Potato And Cheese Omelette
Chris Fearon's Potato and Cheddar Omelette
Chris Fearon's Potato and Cheddar Omelette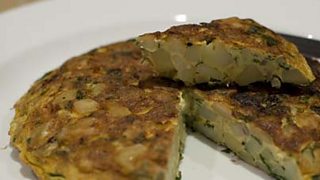 (Serves Two)
Ingredients
4 tbsp of olive oil
1 medium onion, finely chopped
200g of waxy potato, peeled and finely sliced or grated
6 large eggs
100g extra mature cheddar cheese, grated
3 tbsp of chopped chives
Salt to season
Black pepper to season
Mixed salad leaves, to plate
Method
1. To start the omelette, heat the oil in a small non-stick pan. Once hot, add the onion and sliced potatoes.
2. Stir the onions and potatoes for 5 minutes until they become soft. While that's cooking crack the eggs and whisk with salt and pepper to taste.
3. Once the onions and spuds are soft pour them out into a bowl to cool. Add the egg mix, cheese and chives to the pan.
4. Cook the mix on a low heat and start to draw the egg mix from around the sides of the pan, add the onion and spud back to the pan and continue to cook until there is no liquid left.
5. Flip over and continue to cook for 1 minute.
6. Serve hot or cold, cut into wedges, with a mixed salad.