Main content
The Gene by Siddhartha Mukherjee
About the Book
In 2010, researchers launched a study in one of the bleakest, most impoverished areas of rural Georgia, a place overrun by alcoholism, violence, mental illness and drug use.
The scientists wanted to know how an individual's genetic makeup might help or hinder their chances of surviving this grim background, and so began testing local families to determine which variant of a gene known as 5-HTTLRP they possessed. One, known as the short variant, had previously been linked to individuals prone to depression, alcoholism and anxiety. The other, the long variant, was associated with relative "normality".
From the Pulitzer Prize-winning author Siddhartha Mukherjee, comes a magnificent history of the gene and a response to the defining question of the future: What becomes of being human when we learn to "read" and "write" our own genetic information?
Siddhartha Mukherjee has a written a biography of the gene as deft, brilliant, and illuminating as his extraordinarily successful biography of cancer. Weaving science, social history, and personal narrative to tell us the story of one of the most important conceptual breakthroughs of modern times, Mukherjee animates the quest to understand human heredity and its surprising influence on our lives, personalities, identities, fates, and choices.
Throughout the narrative, the story of Mukherjee's own family—with its tragic and bewildering history of mental illness
In superb prose and with an instinct for the dramatic scene, he describes the centuries of research and experimentation—from Aristotle and Pythagoras to Mendel and Darwin, from Boveri and Morgan to Crick, Watson and Franklin, all the way through the revolutionary twenty-first century innovators who mapped the human genome.
About the Author
Siddhartha Mukherjee is a cancer physician and researcher, a stem cell biologist and a cancer geneticist. He is the author of The Laws of Medicine and The Emperor of All Maladies: A Biography of Cancer, which won the 2011 Pulitzer Prize in general nonfiction and the Guardian First Book Award.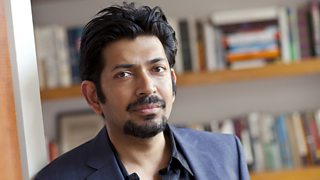 Mukherjee is an assistant professor of medicine at Columbia University. A Rhodes Scholar, he graduated from Stanford University, University of Oxford, and Harvard Medical School. His laboratory has identified genes that regulate stem cells, and his team is internationally recognized for its discovery of skeletal stem cells and genetic alterations in blood cancers.
He has published work in Nature, Cell, Neuron, The New England Journal of Medicine, the New York Times and several other magazine and journals. He lives with his family in New York City.