Main content
BBC Sussex Community Heroes Awards
BBC Sussex is proud to announce the return of the BBC Sussex Community Heroes Awards for 2019.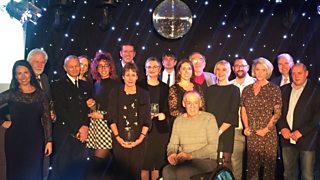 This is the ninth year of these awards, recognising unsung heroes from across the area, with entries being sought in a variety of categories. They are designed to reflect everything from volunteers to young achievers.
This year's categories are as follows:
Young Achiever - Awarded to anyone aged 18 or under, who has demonstrated maturity beyond their years.
999 - Presented to a member of the emergency services or the armed forces for commitment to their profession.
Sport - Awarded to an individual or group who has contributed to local sporting life, either playing a sport or encouraging others to do, such as through acting as a referee, official or coach.
Carer - Someone who cares for an individual or group of people on a regular basis.
Good Neighbour - Awarded to an individual or organisation that helps make the neighbourhood a better place to live or work, either on a regular basis or through a single act of kindness or courage.
Fundraiser - An individual or group who has gone the extra mile to raise funds for a charity or good cause.
Volunteer - Awarded to a person or group who gives up their time voluntarily to help out a charity or good cause.
Animal Welfare - An individual or group who goes out of their way to care for animals.
Music and Arts - Awarded to an individual or group showcasing local creative talent - Everything from community choirs to talented actors.
How to nominate...
To make a nomination, tell us who you would like to suggest and why (in no more than 250 words) remembering to include your name, address and contact number. Entries should then be emailed to: heroes@bbc.co.uk.
Nominations can be made from Monday, 10 June 2019 until midnight on Sunday, 6 October 2019.
Click here for full Terms and Conditions
Evening of celebration
All those who make the shortlist will be invited to a special evening of celebration at the Gatwick Crowne Plaza Hotel on Monday, 25 November 2019.
The overall winners in each category will receive a specially engraved trophy and the event will then be broadcast on the radio.