Main content
Why you need to pay more attention to UK Afrobeats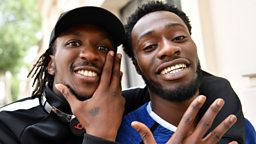 By Ian McQuaid, 6 June 2018
1Xtra recently celebrated Afrobeats, shining a light on the African-born, global genre with a series of Afrobeats Takeover Mixes from the likes of London-based trio Team Salut, DJ Neptizzle, and more. The UK Afrobeats scene, in particular, has been hotting up lately, and here's why we all need to be paying way more attention.
The past couple of weeks have seen a handful of major Afrobeats events take place in London. AfroRepublik, WizKid's mini-festival that saw 20,000 people pack out the O2 and vibe to the likes of Nigeria-born, Ghana-based Mr Eazi and Lagos native Tiwa Savage, in particular showed that the hunger for Afrobeats in the UK is the strongest it has ever been – but not everyone was so thrilled.
Is UK Afrobeats being overlooked?
In the week prior to AfroRepublik, a storm brewed on social media. Flava, of pioneering UK Afrobeats duo Kwamz and Flava (pictured above), posted a video in which he questioned where the representation was for UK Afrobeats artists at such high-profile events.
Why am I getting more love outside my own country? It hurts me.

Flava of Kwamz & Flava
Speaking to 1Xtra, Flava stands by his criticism: "The thing is when I go to Europe or North America, they're catting for Afrobeats, and it's like, why am I getting more love outside my own country? It hurts me".
Afrobeats has risen in popularity in the UK over recent years; a fast, melodic sound close to the dance craze-causing scene popularised in Ghana and Nigeria. As it was, a clutch of homegrown UK Afrobeats artists did eventually make unbilled appearances on the night at AfroRepublik.
Are things starting to change?
The response that the UK Afrobeats acts received at AfroRepublik makes a strong case that homegrown artists deserve more credit for not only what they've done so far, but also what they're doing right now.
Sona, a singer who has spent the last four years producing a string of melodic Afrobeats love tunes, made a stand out early appearance. But it was later in the event that we saw the cameo of the night; Afro B bounding out during Mr Eazi's set to tear through his current hit Drogba. The arena sang back every word of a track that's rapidly become a modern classic - a quick look online and you'll see everyone from Jordan Dunn to Didier Drogba (plus thousands others round the globe) recording themselves vibing to Afro's summer-ready jam.
WARNING: Third party video may contain adverts.
Who's behind the recent UK Afrobeats wave?
This kind of global support suggests that the world is as primed to hear Afrobeats sounds coming from the UK as it is the bangers coming from the likes of international artists like Tekno, Davido and the Drake-endorsed Wizkid. Concurrent to this, there has been a groundswell of homegrown tracks with an emphatically Afrobeats sound that suggest a new wave may be on it's way – or even perhaps is already here.
Eugy's Tick Tock (also produced by Drogba hitmakers Team Salut) triggered off a viral dance craze earlier this year with a sound that mixed the harder bass of UK records with the uptempo BPM favoured by Afrobeats DJs.
More from 1Xtra...
A response to the recent media demonisation of UK drill music

We went to Kanye's listening party for his new album ye - here's what happened

Video games and hip-hop have long been linked, and rap's love of Fortnite is no different

Warning: huge names within

From Lethal Bizzle backed by the Metropole Orchestra to Mary J Blige
Are UK artists making waves globally too?
Elsewhere, Peckham's finest Naira Marley teamed up with Lil Kesh and Olamide to deliver an anthem for Nigeria's World Cup efforts with Issa Goal. Riding the wave of Nigeria's current Shaku Shaku dance craze, the tune has been kicking off worldwide, popping up anywhere from raves in Leicester to Nigerian sports shows – and no doubt with the World Cup looming it'll be getting plenty more play over the coming month.
The UK Afrobeats movement has played a pivotal role

Flava
Representing Ghanaians in the UK, GB (of the IRAYMVMT crew) recently hit a million streams on his Azonto-flavoured banger Under Lover. The track was first released in 2017, but has continued to grow and grow – and it seems very likely that the rest of the scene is growing with it.
There have also been interesting fusions popping up; Skepta and Olamide's recent link up Sheevita Juice is the closest we've come to an Afrobeats/grime hybrid since Weray Ent's Ching Chang Wallah.
"The UK Afrobeats movement has played a pivotal role, bridging that gap between the fanbase here and other artists outside the country," Flava argues. Hopefully, people are beginning to sit up and take notice.