Main content
'Nothing's off-topic' - The vlogger raising awareness about bipolar disorder
Four days after attempting suicide at the age of 19, Sameera Armstrong discovered she was pregnant.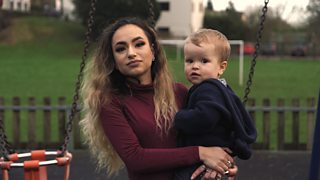 That's when she knew she had to get help.
Since her diagnosis of bipolar disorder, Sameera has been sharing her personal journey through vlogging to raise awareness and help others with the condition.
"I took an overdose when I was 19. I had no regrets, that's what I wanted to do," she said.
"I just felt like I was battling with something that I couldn't win anymore. I was just done with trying to fight it, that's what I felt like was my only option.
"I hated my dad for finding me. And then four days later - I'm pregnant.
"All of a sudden I'm going to have somebody that's going to love me unconditionally and I'm going to love unconditionally back.
"I have something to live for now. I have my purpose. And I need to get better, I want to get better because I want to be the best person for him."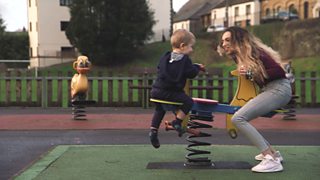 It took nine years for Sameera to get her crucial diagnosis and subsequent support, and she felt compelled to reach out to raise awareness of mental health and to help others in similar situations.
"On average it takes 10 years to get diagnosed with bipolar. I waited nine years from being 13 to 22, and you'll get misdiagnosed on average two or three times," she said.
"After I got my diagnosis I wanted to go out there and make a change for other people who have it. Vlogging, I felt, was more personal than anything else so I thought that if I sat down in my kitchen and filmed a video I could reach and help other people.
Sameera's first vlog had a positive reaction and encouraged her to continue posting on her YouTube channel.
"When it was uploaded I was like 'Oh my goodness, I am out there now - this video is out there for everybody to see,'" she said.
"People started watching it straight away, and started liking and commenting. I was overwhelmed. And then people that I knew reached out saying that they had bipolar.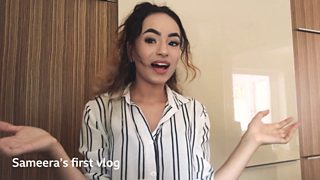 Don't struggle in silence, go and seek help
"It just opened so many doors, so many conversations... just such positive feedback that I decided 'right, I'm gonna to do this more, this is what I want to do'.
"Nothing's off-topic. Whatever somebody wants me to film a video on, I will. And that's something that I pride myself on … that I'm an open book.
"I was glad that I opened up, that I showed the emotion. I was glad that I cried, glad that I shared my experiences - because that's what other people could relate to.
"To watch them then have the confidence to go and do it, say they've started a YouTube channel because of it or if they were able to talk to their parents or their family because of it - that's what I wanted, that was my intention. So I'm so glad that I did it."
Sameera's advice for anyone struggling with their mental health is to seek help, and talk to someone...
"Don't struggle in silence, go and seek help, it's nothing to be afraid of,' she said.
"The more open you can be with yourself, the easier it is to get help because then people can try and put the right steps in place.
"Don't be scared to talk and tell people how you feel. Nothing negative can come from it."