Main content
11 surprising facts about William Shakespeare
Known as England's National Poet, The Bard or The Bard of Avon, William Shakespeare is considered to be the "greatest writer in the English language". No biggie.
Perhaps you know about Shakespeare because you've read or seen one of his plays, or maybe even caught the repeat of Shakespeare In Love recently?
But how much do you actually know about The Bard? Here's a quick "pass notes" guide for you, cribbed from Homeschool History's fantastic Shakespeare episode, which came out this week.
1. His dad was a beer taster and a glove maker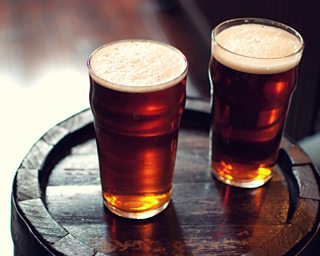 Shakesbeer: William's dad was a part-time beer taster
William was born in April 1564 in a town called Stratford-upon-Avon, in the middle of England. His family were also in the middle – meaning not rich, but not poor either. His dad had a number of jobs including selling leather and wool, tasting beer (really) and as a glove maker, and the family – all five of them – lived above a glove shop.
2. He couldn't spell
Although William was taught Latin at his local school, spelling was not part of lessons and everyone spelled words how they wanted. Imagine that! Shakespeare spelled his name a number of different ways, including: Willm Shakp, William Shaksper, Wm Shakspe, William Shakspere and Willm Shakspere!
3. He married young
Married at the tender age of 18 to Anne Hathaway (not the actress from The Witches!), Shakespeare had three children in three years!
4. He tried to be an actor first
William wasn't around much at home as he went to London to be an actor. His brother Edmund soon followed him to the city to do the same. Will had better luck writing plays than acting, however. He learned fast and produced gory tragedies, rom-coms and comedies.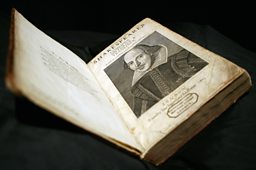 5. He was very productive!
Shakespeare wrote at least 37 plays in his life, that we know of – this averages out to two per year! He also wrote a lot of poetry, mostly poems called sonnets. In one year alone, 1609, he published a 154 of them!
Melted into thin air.

A phrase first coined by William Shakespeare
6. He survived a pandemic
You have more in common with Shakespeare than you think. Shakespeare lived through and survived a pandemic, one of a number of waves of the bubonic plague. Very sadly, however, his son Hamnet died of the plague, aged just 11. This affected William's writing and themes like disease, death and grief ran through many of his plays. Although no one knows for certain, it's likely that Shakespeare named his most tragic character, Hamlet, after his son.
7. He gave us some well-known phrases...
Shakespeare certainly had his lighter side. He liked to put jokes in his plays, even in his tragedies, and he also made up phrases that we still use today, such as "melted into thin air", "wild goose chase", "I haven't slept a wink", and "break the ice".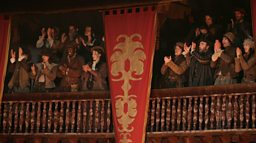 8. …and rude insults were his speciality
You scullion! You rampallian! You fustilarian! I'll tickle your catastrophe!

Falstaff in Henry IV Part 2, by William Shakespeare
William was very handy with insults, conjuring up some fierce put-downs, such as:
"Thine face is not worth sunburning."
"Thou art as fat as butter."
And who could forget:
"You scullion! You rampallian! You fustilarian! I'll tickle your catastrophe!"
9. He was a savvy businessman
As well as being a creative writer, William was a savvy businessman. He co-owned his theatre company, the Lord Chamberlain's Men, and the Globe, an outside theatre built in London in 1599. He even opened up a second theatre, a posh indoor one called Blackfriars.
10. He hit the "big time"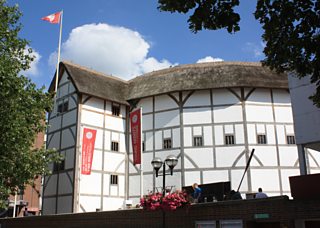 Shakespeare's Globe in London, a reconstruction of the ill-fated original
Shakespeare's continuing success meant that, in 1597, he bought the biggest house in Stratford-upon-Avon, which had maybe as many as 30 rooms. Six years later, the Lord Chamberlain's Men became The King's Men, the official performers for the new King James I of England (and also King James VI of Scotland). William had officially made it big, and his family were granted a special family crest, meaning he was now a gentleman.
11. He stopped writing when disaster struck!
Theatres were a new and exciting thing in Shakespeare's day. They were quite chaotic too, with dangerous special effects. Examples of this included throwing fireworks through a trapdoor in the ceiling to imitate lightning and rolling a cannon ball across a roof to create the sound of thunder.
It was a cannon (but not a cannonball) that was to blame for The Globe burning down at a performance of Henry VIII in 1613. To announce that the play was starting, the cannons fired a mix of gunpowder and wadding (material you would find in a quilt) and the outer roofed area caught fire. Shakespeare stopped writing after the incident and died three years later.
More History from the BBC...
Join Greg Jenner for a fun homeschool history lesson on William Shakespeare.