Main content
Never felt so good: Turning sheep fleece into sculptures
Whether it's knitting, pottery, painting or embroidery, craft is as popular as ever. And it seems there are no limits to some people's talents. We've teamed up with a brand new BBC Four television programme, Make! Craft Britain, which hopes to showcase the talents of the country's crafters.
Get Creative spoke to some makers to find out a bit more about their skills. This week it's SUE SHAW'S turn to tell us about her love of needle felting.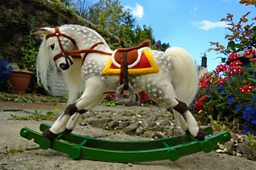 Sue describes herself as 'a lifelong compulsive crafter' and has always dabbled in many creative activities. She has what she calls 'itchy fingers' syndrome and likes to try all sorts of crafts.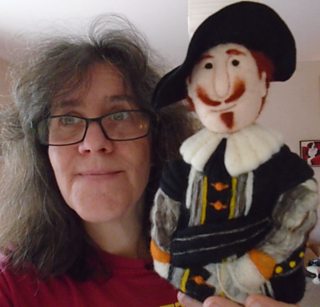 She first saw a few examples of needle felting on the internet and after watching a few tutorials, sent off for a starter kit.
Needle felting is a technique that uses a special barbed needle that is pushed into wool fibres which presses them down and blends them.
More fleece can be added to sculpt shapes and add colour and decoration.
"It's a little like welding, embroidery and clay sculpture combined," she says.
Sue's first attempt at needle felting was in 2014 and she's been hooked ever since.
After finishing her starter kit she decided the best way to familiarise herself with different fleeces, shapes, sizes and colours would be to work her way through the alphabet.
She didn't just make cute animals, although there are plenty in the mix, she also tackled dinosaurs, fruit, musical instruments and a Volkswagen beetle.
Since then she has made over 200 pieces and has included old master portrait figures, scenes and food to her reportage.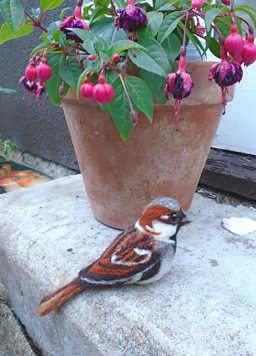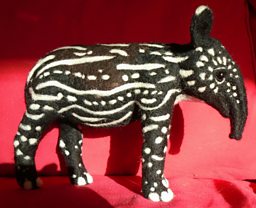 This tapir took two days to make and is about nine inches long
Pieces take between a day and two weeks to make and most of the fleece is sourced from Yorkshire and Northumberland.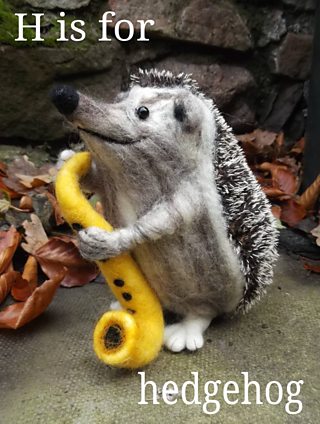 The rocking horse (at the top of the page) took about two weeks to make.
"It started life as a unicorn but as I was passing an antique shop, I saw a rocking horse and set to work on redesigning the unicorn. The rockers were made from recycled wooden coathangers," she says.
Once she's collected between 15 and 25 items she makes homemade videos to put on YouTube as a keepsake.
"The most challenging projects are the animals. The simpler the form, the harder it is to get just right.
"The most fun to make are the off-the-wall ideas that evolve from wordplay and random, misheard conversations," she says.
She also started playing with famous novel titles: "Lady Chatterley's Plover, the Pelican's Briefs and was tempted to do the 39 Seps, but the thought of making 39 mushrooms was, well too repetitive. If it tickles my funny bone that is just a bonus."
When she is not supply teaching, she spends practically every day needle felting or looking for inspiration in the beautiful Northumberland landscape where she lives.
MAKE! Craft Britain, coming soon to BBC Four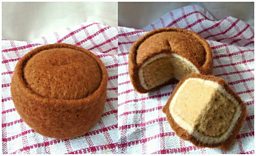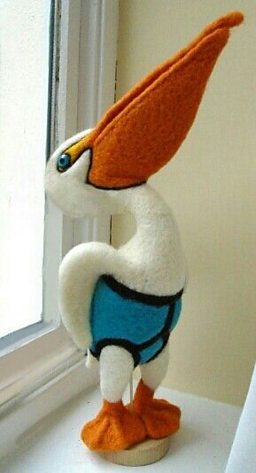 Pelican's Briefs
More from Make! Craft Britain