Main content
Quentin Tarantino reveals the stories behind his movie soundtracks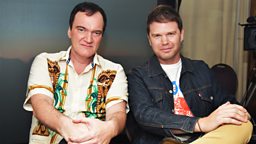 Acclaimed director and writer Quentin Tarantino joins Radio 2 to discuss the music from his movies with film critic James King.
Tarantino's films are known for his distinctive style, often inspired by scenes from his encyclopedic knowledge of cinema, while he chooses the music from his own extensive record collection, hand-selecting each track.
In his Radio 2 special, we hear some of the seminal tracks that he's used, as he talks through the stories behind those iconic music moments. Here are 5 things we learned from Quentin's chat with James King...
1 | They used real 1960s radio in Once Upon a Time In Hollywood
Tarantino's latest movie, starring Leonardo DiCaprio, Brad Pitt, and Margot Robbie, features a soundtrack of awesome 60s tunes coming direct from the radio - the radio becoming almost another character in the flm as it's a constant presence in the background.
Rather than re-create 1960s radio, Tarantino demanded the real thing and ended up using recordings of a Los Angeles station.
"I wanted to use 93 KHJ as a sort of period narrator. We had an archivist, whose job it was to bring me actual recordings, so I had about fourteen hours that was taped between 1968 and 1969. There is no 93 KHJ anymore, so there's no going to them and going into their archives. What I got is literally just people in 1968 and 1969 putting a tape recorder next to a radio and hitting play and record."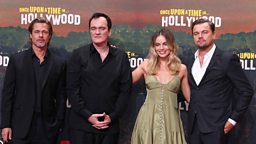 "It was a legit fourteen hours of material, so I started listening to it to chronicle it all. And I'm finding DJ intros I like, and I'm finding my spots and my jingles. There's a certain point I got a real sense of exactly what K.H.J. was playing in 1969 and I realised if this is coming from the radio [in the film], it's got to be one of the songs in these fourteen hours. It's got to actually have been played on K.H.J. in Los Angeles. I wanna hear DJ intros and outros. If it didn't play on K.H.J. in that time it just felt like I was cheating."
2 | Uma Thurman was terrified to dance in front of John Travolta for Pulp Fiction
Before Uma Thurman played the bride in Kill Bill, she shimmied with John Travolta in Pulp Fiction, but it was actually Travolta who showed Tarantino the moves.
"John entered a twist contest when he was like eight or something. He was an expert, and knew all these different dances from the 60s and so he started walking me through them. How we did it is they would start off with the twist and then I just throw different dances at them and they would just break into it."
"Little did I know Uma was terrified," reveals Tarantino. "She wasn't terrified that she would be awkward dancing the twist. She was terrified that she was going to be dancing opposite John Travolta. I was thinking of John as an an actor, I wasn't quite thinking about the one of the more famous dancers of the last thirty years. But I got it. She wasn't letting me know how nervous she was."
"I've seen things on YouTube that say I got the dance from Eight And A Half or La Dolce Vita, but I'd never seen either one of those two movies. I admit when I look at it, they look similar. Other people say I took the dance in Pulp Fiction from Band Of Outsiders. I did not take it from Band Of Outsiders. But I brought in the tape of Band Of Outsiders and showed it to John and Uma as an inspiration of what I was looking for. Not choreographed dance movements, but people enjoying themselves to a jukebox and dancing with exuberance. They're not trained dancers, but in another way they're the best dancers in the world."
"By showing them that I took a thousand pound rock off Uma Thurman's shoulders. She's watching and watching and she was 'Oh, OK, so I don't have to know how to dance.' That was literally her response. 'No, you just have to have fun.' 'Oh I can do that.' And all of her trepidation went away."
3 | One track in Reservoir Dogs set Tarantino back thirteen thousand dollars
Tarantino shot to success in 1992 with his first film Reservoir Dogs, famed for its low budget and high body count. With an ensemble cast including Tim Roth, Harvey Keitel and Steve Buscemi, the indie picture followed a group of gangsters in the aftermath of a robbery gone wrong. Sharp suits, wisecracking script and non linear structure powered it to cult status.
Tarantino's use of music was inspired, with one moment in particular defining his style as an incendiary storyteller. Picture the scene in a disused warehouse. Michael Madsen's psychopathic Mr Blonde is interrogating a captured cop. Just like in Once Upon A Time In Hollywood, on comes the radio to soundtrack the visuals.
The song is Stealer's Wheel Stuck In The Middle With You. Tarantino reveals how as an unproven filmmaker at the time, he managed to use this classic slice of 70s pop for such a dark moment.
"We had a thirteen thousand dollar music budget and that was it. I knew I wanted to get Stuck In The middle With You. The woman who had the power of yes or no at EMI was a rather lovely lady called Pat Lucas. I had some mutual friends that were in my team who knew her. So they got together with her and they just kind of set up that she might be inclined to help me. They talked me up big time. They're like 'He could be another Kubrick. So if you're inclined to give a break to a young Kubrick, this would be the time to do that."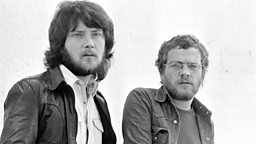 Stealer's Wheel
"It led to Pat Lucas visiting the set, and us treating her like she was the Queen. And she gave us the song, even with the violence. We're like 'How much are you gonna charge us for?' She asked 'What's your music budget?' 'Thirteen thousand.' 'Then thirteen thousand is what I'm charging.' So we gave her thirteen thousand. We figured that was going to be all the money we had. But then somebody suggested that if we could talk a company into releasing a soundtrack album, we could take the money from the soundtrack album advance and pay for the songs. And that's how we came up with the idea of getting more songs and pulled it all off."
4 | Tarantino isn't averse to using music from other movies
Tarantino's use of a song can change what we think about when we hear it. And as a master of postmodern nods and winks, he's also happy to re-use music originally created for other films. For example, the slinky and stirring His Name Is King by Luis Bacalao & Edda Dell'orso, a great tune originally in the seventies spaghetti western, His Name Was King. Recycled by Quentin in his own tribute to the genre Django Unchained.
But what's the cut off line? Are there tracks from other movies that even Tarantino wouldn't touch?
"I wouldn't use Wagner's Ride Of The Valkyrie. Because Coppola owns that. I might use a lot of Morricone, but would never use The Good, The Bad, and The Ugly. I've tried some thing's where I thought that their use in something else was terrific. But my use, I thought, could have either been better. Or at least different. So I've changed my mind on that, as I think there was a time I thought if it's ever been used well on a movie, you can't use it again. But that's almost too limiting. But if it was used in another movie well, then just know that you're taking a risk."
5 | Tarantino's secret weapon is a woman called Mary Ramos
It's not always a simple process getting the ideal piece of music into your movie, even for Quentin Tarantino, and especially in his early days. It's why Mary Ramos has been by his side since the very beginning, a personal music supervisor.
"She is hands down one of the most unsung heroes. I'll take some weird soundtrack from some weird Japanese movie, then it's Mary's job to track it down and clear it for me."
"I didn't even realise how tough that is in some cases. Just to give you an example - she cleared for Hateful Eight a track from the Ennio Morricone score from The Exorcist 2. There's these three girls doing the La La Las in it. She had to track down those three girls so they could sign off on us using it. And she doesn't want me to know she has to go through all that. And even though she's going through all this trouble and trials and tribulations, and has to be a detective, she doesn't want me to know. Her whole mantra is she doesn't want to disappoint me."
"The only song that I ever really, really, really wanted and they just said 'no' was The Knack with My Sharona. I was given two flat no's!"