Main content
Where is the Best Place to Be a Woman?
How do you rate your home town? Why do you live there? And what makes it a great (or not so great) place to be a woman? All summer we've been busy finding out where (in Britain) are officially the best and worst places to be a woman. This is what the study revealed...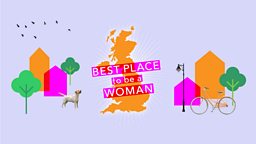 Who are the winners and losers?
East Dunbartonshire in Scotland has been named the 'Best Place' for women to live in 2017. The suburbs and towns of Glasgow topped a list of 380 local authorities, with nearby East Renfrewshire in second, and West Oxfordshire in third place.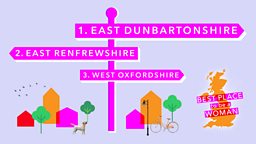 At the other end of the spectrum, the study conducted by the National Centre for Social Research (NatCen) for Woman's Hour, found that the London borough of Islington is the worst place for women to live, followed by Blackpool (second) and Corby (third).
How the study was compiled
NatCen used eight key areas to analyse the data and create an index to rank all of the local authorities from best to worst using data already collected. They also identified the best place to be a younger woman (18-30), a middle woman (30-65) and an older woman (65+). The indicators were income, housing affordability, personal wellbeing, safety, education, life expectancy, environment and culture.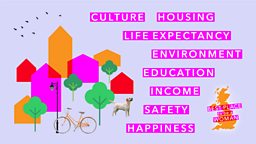 What makes East Dunbartonshire such a great place to be a woman?
East Dunbartonshire scored well across the board where it mattered. It came 11th in education, with 75 per cent of residents reporting NVQ3 level qualifications or higher. Placed 40th overall when it comes to personal well-being (in 35th place for life satisfaction and 42nd for happiness.) The borough also ranked 46th in terms of income, with the average hourly wage among women equalling £15.07 per hour, putting it in 41st position overall, while it scored significant eco-friendly points with the local authority ranking 16th overall in the quality of the local environment and access to green space.
It wasn't all plain sailing, though. With the average house costing 7.5 times the local media salary, it came 192nd out of 380 in housing affordability and 159th on life expectancy at birth, with an average life expectancy of 83.5 years among women in the area.
Why did Islington do so badly?
Islington came out on the bottom of the list after gaining low scores across numerous categories, including 379th out of 380 on personal wellbeing overall and 369th for crime, with 122 reported offences for every 1,000 people, while housing is among the least affordable in Britain, with the average house priced at more than 16 times the local median income.
Read more on how we decided the best and worst places to be a woman, from NatCen's Nancy Kelly.