Main content
Massage received: From McLuhan to the digital age
6 March 2015
The Medium is the Massage. Marshall McLuhan's ground-breaking paperback is the encapsulation of how technology and design impacted 1960s culture. Now 50 years on, SHUMON BASAR, DOUGLAS COUPLAND and HANS ULRICH OBRIST write for BBC Arts about why Planet Earth needs a new self-help book for the digital age. Their answer to McLuhan is The Age of Earthquakes.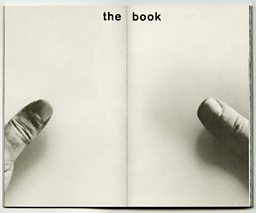 Pages from The Medium is the Massage
Images: Peter Moore /Jerrold N Schatzberg, for Columbia Records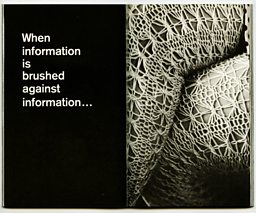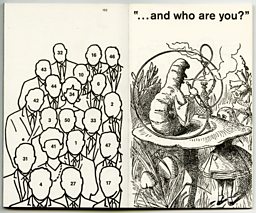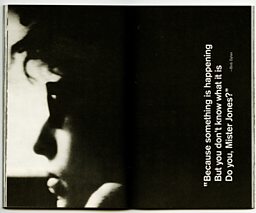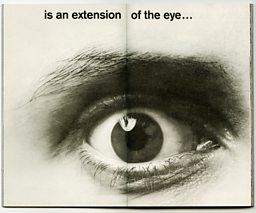 In 1964, a 53-year-old professor of English literature called Marshall McLuhan published a book called Understanding Media.
It was brilliant but obtuse in its wide-ranging intellectual flourishes. It described new media - like television and radio and magazines and paperback books - as "extensions of man". It also contained a phrase, which has gone on to have exponential meaning ever since: "the medium is the message".
The Medium is the Massage became another touchstone of 1960s pop
This slogan became one of the forces fuelling The Medium is the Massage. (Yes. Massage.) McLuhan's encyclopedic ideas were presented as quick-fire bursts of bold words and fragmented images. Readers were being told: this is what accelerated advances in technology and communication are doing to you.
It's a journey through microchips and toy trucks, James Joyce puns and fishnet tights. 1967 was also the year of The Beatles' Sergeant Pepper's Lonely Hearts Club Band and Guy Debord's capitalist critique of culture, The Society of the Spectacle. Almost instantly, The Medium is the Massage became another touchstone of 1960s pop, one that was as cautionary as it was celebratory.
The Medium is the Massage looked that special way because McLuhan was just one part of a team of three. There was former advertising exec, Jerome Agel, who had reinvented himself as a 'book producer'. And there was New York graphic designer Quentin Fiore, most famous for designing the numbers on the standard Bell Labs home phone. They dreamt of taking McLuhan's difficult prose then 'comprehensively contracting' it, so even young kids would get hooked.
Over the next eight years, Jerome Agel went on to produce several more of these innovative, 'experimental paperbacks', featuring heavyweight thinkers such as architect Richard Buckminster-Fuller, counterculture icon Jerry Rubin, filmmaker Stanley Kubrick and astronomer/cosmologist Carl Sagan.
Each collaboration married intellectual insight with irreverent wit, always packaged in pictorially high-paced pages. And the affordable cover price made these complex ideas attractive and accessible to all.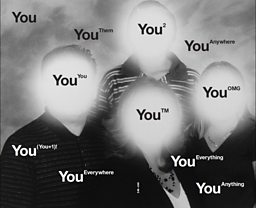 Pages from The Age of Earthquakes
IMAGES: Douglas Coupland, Family in Mid-rapture, 2012, digital collage, photocopy printed on drum copier / Cao Fei, RMB_City_Planning_07, RMB City online project in Second Life, 2007-2011 / GCC, Inaugural Summit, Morchach 2013 1, 2013 / Trevour Yeung, Laughing Tears / Cecile B. Evans, Suddenly Human Noise, 2014 and Crying Android Knoshown, 2014.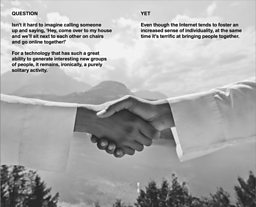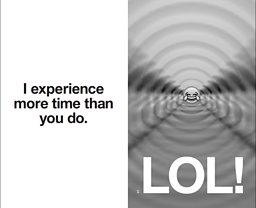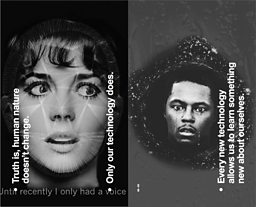 We've made our own 'experimental paperback' entitled The Age of Earthquakes: A Guide to the Extreme Present. Wondering what McLuhan would have made of our always-connected world has led us to other interesting questions. The key difference is that while the McLuhan/Fiore/Agel book charted the impact of 1960s electric technology on culture, The Age of Earthquakes tours the impact of digital technology - in particular the Internet - on our brains, our relationships to each other and even changes in our planet.
Embedded in the DNA of the simple paperback is an enduring technology
The Age of Earthquakes is also born from an extensive collaboration (between novelist Douglas Coupland, cultural critic Shumon Basar, contemporary art curator Hans Ulrich Obrist, graphic designer Wayne Daly and 35 visual artists from all over the world).
We wanted to update what Quention Fiore described as "a dialogue between the computer and the book" back in 1967. We were also inspired by McLuhan's 1964 pronouncement that, "the paperback itself has become a vast mosaic world in depth... a transformation of book culture into something else."
In The Age of Earthquakes, this 'something else' is our current culture of addiction to screens, big and small. We've culled visual clutter from smartphones and computer monitors then arranged them on the pages of our paperback. We've stolen aphorisms, slogans and spam from the Internet, which we then set in the same neutral modern font. They miraculously transform into poetry. All this is rendered in the same monochrome aura of The Medium is the Massage.
It goes to show that embedded in the DNA of the simple paperback is an enduring technology. An 'operating system' that's resilient and open to continual cultural renewal, absorbing what's around it.
Often, it takes the medium of a previous era to fully capture the contemporary moment we live in. We call this 21st century moment, 'The Extreme Present.'
What's that, you may ask.
'The Extreme Present' defines the current historical instant when the future seems to be happening much faster than we ever thought it would. Symptoms include your life not feeling like a story anymore; you not feeling like an individual any longer; waiting for something smarter than us — and dreading what that might be.
We'll never know if McLuhan/Fiore/Agel would 'LIKE' our homage to their intrepid and innovative intelligence. Or if they'd rather start a Twitter feud. Worse still, resort to a YouTube outburst. Ideally, they'd pat us on the back, and paraphrase something Agel said 50 years go: "Boys, it's a book that shows what's happening when what's happening is happening. It predicts the present."
The Age of Earthquakes: A Guide to the Extreme Present, by Shumon Basar, Douglas Coupland and Hans Ulrich Obrist is out now from Penguin.
About the authors
Shumon Basar is the author of Do You Often Confuse Love with Success and with Fame? He holds editorships at Tank magazine, Bidoun magazine and is director of Format live magazine at the Architectural Association School of Architecture London.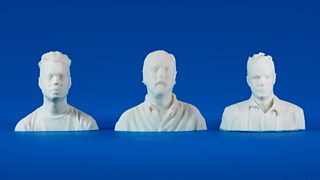 The authors chose to be digitally scanned for their Age of Earthquakes portrait as 3D-printed busts
Douglas Coupland has written 13 novels published in most languages. His debut Generation X was an international bestseller. He began a visual art practice in 2000, and his first museum retrospective opened in 2014.
Hans Ulrich Obrist has been co-director of the Serpentine Gallery since 2006. His previous books include Ai Wei Wei Speaks, written with Ai Wei Wei, and Ways of Curating. He is considered one of the most influential contemporary curators in the world.
The Medium is the… what?
A clever play on words by Marshall McLuhan? His son Dr Eric McLuhan, on the website of the McLuhan estate, suggests that the title was a "typo".
He says it should have read " the Message" but it came back from the typesetters with the error. When McLuhan saw "the Massage" he wanted it left as it was.