Main content
Spice Up Your Life with The Spice Girls at Wembley (Text In Competition)
***This competition is now closed***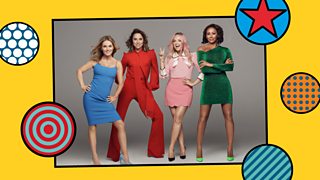 Competition Date: Opens at 06:30 on 15th November and closes at 19:00 16th November
Event Date: Friday 14th – Saturday 15th June 2019
Win the chance to Spice Up Your Life with a pair of tickets to the newly announced Spice Girls tour at Wembley Stadium.
You will arrive on Friday 14th June 2019 at the five-star Cliveden House hotel set upon 376 acres of National Trust ground in Berkshire. You'll get the chance to relax and take advantage of the hotel's spa, including a spa treatment of your choice and dinner in the hotel's informal dining space – The Astor Grill.
The following day it'll be an early wake-up call before heading off for a leisurely breakfast Thames cruise on-board Sunstar - a 1963 Bates Starcraft skippered by Captain Chris.
On arrival back to Cliveden that afternoon it will be VIP fun bus transfers to Wembley Stadium for a technical sound check, where you will be involved in the actual sound check itself!
Then it will be over to the Novotel London Wembley, where your stay will include bed and breakfast. You'll have some time to check-in and chill before heading back to the stadium for a guided backstage tour and pre-show meet and greet with The Spice Girls themselves.
Finally, it's take your seats time in the royal box area to watch the stadium spectacular Spice World 2019.
Plus, before the show is over you well get an invite to watch the last five performances of the girls hits from the stage itself!
As you head back to the hotel, not only will you take away with you some incredible memories, but courtesy of the girls, you'll take home a bundle of official Spice World 2019 merchandise.
This is one heck of a package you do not want to miss!
Requirements
Accommodation at Cliveden House on Friday 14th June 2019 will be a classic double, with dinner, bed and breakfast.
Accommodation the Novotel London Wembley on Saturday 15th June 2019 will be on a bed and breakfast basis.
Unless otherwise specified, all other transfers will be the responsibility of the successful auction bidder.
Please note guests 16 and under must be accompanied by an adult over the age of 18 at all events at Wembley Stadium. For concerts, they advise that guests 5 and under do not attend due to safety concerns. For all events, they advise that guests 2 and under do not attend due to safety concerns. In most instances, guests 2 and over must have a valid ticket. From 1 January 2019 any child aged under 2 years of age will not be permitted into Wembley Stadium.
Wembley Stadium is fully inclusive and accessible.
Privacy notice
Your information (mobile phone number and amount of donation) will be collected by Fonix Mobile Limited on behalf of BBC Children in Need and will only be used to process your donation, provide receipts, process any refunds as necessary. Our legal basis for this processing is that it is in our legitimate interests to fundraise (and we don't believe this unreasonably impacts on your rights and freedoms) and if you are a winner that the processing is necessary for the fulfilment of a contract. Any additional information provided as part of the Gift Aid declaration will only be used for the purpose of our legitimate interests (and we don't believe this unreasonably impacts on your rights and freedoms) of claiming Gift Aid and in order to help analyse our income. We will retain your information in accordance with our retention policy, an extract of which is available on request. To find out more about how we will use your information, including how we use it if you sign up to keep up to date about children we support and fundraising news, see our website or contact pudsey@bbc.co.uk.
Children in Need 2018
A celeb-filled day of fun dedicated to the amazing work of Children in Need.

Find out all about Children in Need, including how your money improves children's lives.

Make a donation to Children in Need 2018 (By clicking this link you will be moving to the BT MyDonate web page. Please note that this is subject to the BT My Donate Terms & Conditions and Privacy Policy).