Main content
Antiques Roadshow is coming to Buckfast Abbey on Thursday 13 September
What story will you bring?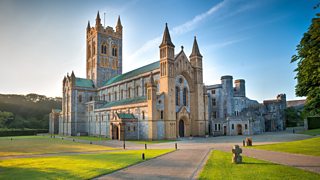 BBC One's Antiques Roadshow will be filming at Buckfast Abbey, Devon on Thursday 13 September.
Fiona Bruce and the team of Antiques Roadshow experts will be waiting to welcome you, so dust off your family heirlooms and dig out those car boot bargains and bring them along for free advice and valuations to visitors.
Doors open at 9.30am and close at 5pm. Entry to the show is free, everyone is welcome, and no tickets or pre-registration is required.
Please note dogs are not allowed on site.
Visitors are welcome to just turn up on the day but they can also share their stories about the special items they are bringing along using Share Your Story form.
Alternatively, email: antiques.roadshow@bbc.co.uk or write to Antiques Roadshow, BBC, Whiteladies Road, Bristol BS8 2LR.
Travel and parking information
By Road
Buckfast Abbey is 0.5 miles from the A38 Devon Expressway, midway between Exeter and Plymouth.
AA signage will direct all visitors off the A38 Devon Expressway at Buckfastleigh, and will send Blue Badge Holders and appointment card holders to the main car park at Buckfast Abbey.
All other visitors will be directed to the field car park located on the Old Ashburton Road. Please use the postcode TQ13 7JL for the offices at St Boniface House, which is just beside the turning to the field being used for parking.
From the field there will be a path to the event and buggies available for people with mobility issues, although some walking will still be necessary.
By Rail
The nearest stations are Newton Abbot and Totnes, both a 20 minute drive from the Abbey.
By Bus
The local bus service, Stagecoach number 88, operates from Newton Abbot and Totnes to Buckfast. There is also a coach service between Exeter and Plymouth which stops in Buckfastleigh. The Abbey is a half-mile walk.