Main content
My culture picks: Andy Serkis
31 October 2017
With his directorial debut Breathe currently in UK cinemas, actor Andy Serkis - famous for his motion capture performances of Lord of the Rings' Gollum and Planet of the Apes' Caesar - talks to Front Row about his artistic inspirations and what's on his cultural radar.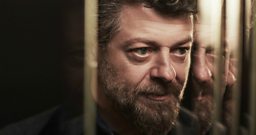 Book: No Is Not Enough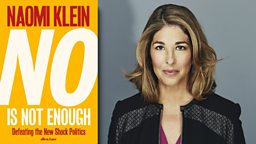 No Is Not Enough, by journalist Naomi Klein, is an exploration of the rise of Donald Trump and shock political tactics.
Serkis says: "It's brilliant - the whole notion of how a superbrand can take over the world, how the whole world can be completely subsumed in one person's brand - that is a very interesting notion. It becomes crushing, because it doesn't make way for individual voices and individual talent.
"There is a sort of flattening-out and a committee approach to creativity, which can be very stifling. So I think this book is really exciting - it arms you to deal with the overwhelming nature of what we're living with from day to day at the moment, which is so depressing."
No Is Not Enough is published by Allen Lane (2017). Naomi Klein image by Kourosh Keshiri.
Theatre: The Ferryman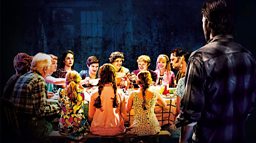 Directed by Sam Mendes, The Ferryman was written by Jez Butterworth.
"Jez Butterworth is the most extraordinary writer," says Serkis, who has performed in Butterworth's first play, Mojo, and has read many of his plays since. "His observations are incredible. Thematically he is unafraid to go anywhere and investigate the darkest part of the human condition, and yet the humour is always scabrous and witty and funny. He's a modern genius in the playwriting world."
Butterworth's newest play, The Ferryman, features a huge cast of characters, and recounts the tale of the Carney farmhouse in Northern Ireland, 1981. Initially performed at the Royal Court Theatre, it became the fastest selling play in its history. This production, directed by Sam Mendes (American Beauty, Skyfall) has been racking up a mountain of five-star reviews. Serkis adds: "He's such a world-talent and I would highly recommend anybody to go and see anything that he's written."
Listen to Front Row's special on The Ferryman. The play continues at the Gielgud Theatre, London until 6 January 2018. Image courtesy of Cornershop PR/Sonia Friedman Productions.
Film: Mother!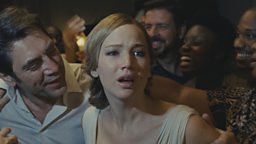 Mother! is directed by Darren Aronofsky and stars Jennifer Lawrence and Javier Bardem.
Serkis says: "I really loved it. I just think its boldness is quite brilliant, I mean, it's absolutely crazy, it's fantastic, it makes you mad. You're on the edge of your seat, you just do not know what's going to happen next, it's an assault, it's thrilling and it's unlike any film I've seen in recent times.
"We're so conditioned into wanting something which is safe, and normal, and being dumbed-down, just not making space for these really unique voices like Aronofsky. I think what he's achieved is incredible. It examines the dry, cloying, alienating, bloodsucking nature of celebrity, and how obsessive that can be. You need those films alongside all the superhero movies."
Mother! is scheduled for release on DVD and Blu Ray in December 2017. Image © 2017 Paramount Pictures.
Music: Nitin Sawhney and late 1950s jazz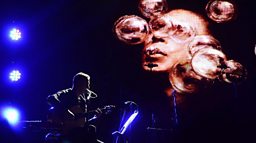 Nitin Sawhney composed the soundtrack for Breathe.
Serkis says: "My great friend Nitin Sawhney is one of the most inspiring musicians, and continues to be. We've worked together on a number of projects; video games that he's written music for, and his albums - his recent albums are just brilliant."
Sawhney has worked with top musicians including Paul McCartney, Brian Eno, the London Symphony Orchestra and Sinead O'Connor. His new album, Live at Ronnie Scott's, is sure to be on Serkis' list. However, the actor says that his go-to music tends to be the jazz greats of the late 1950s, such as John Coltrane and Miles Davis.
"They're the soundtrack to my life, basically," he says of the legendary musicians of the era. Serkis, who also plays the tenor saxophone, describes himself as a "massive jazzer" and a "modal jazz freak". He will typically go back to his trailer during a break from shooting and stick on Davis's Sketches of Spain or Coltrane's A Love Supreme. He adds: "All of the Miles Davis albums that he created with his quintet, I just think are really beautiful and powerful and transport me constantly."
Breathe is in cinemas now. Nitin Sawhney's score is available on the Varèse Sarabande label. Image courtesy of Nitin Sawhney.
More from BBC Arts
How classic films influenced comic book writers and artists to create Batman and more

Kenneth MacMillan's dark and intense Mayerling, performed by the Royal Ballet

Turn your home into a project haven with this step-by-step guide to making a mosaic door plaque