Main content
Enigmatic Escher: Early works by the artist like no other
2 May 2018
The artistic highlight of Leeuwarden's year as European Capital of Culture is Escher's Journey. WILLIAM COOK explores the new exhibition that places Escher's studies of Italian landscapes, rather than his famous mathematical prints, centre stage.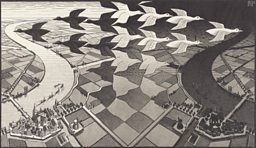 Day and Night (1938), collection Museum of Friesland
In a quiet corner of the Netherlands, a pretty patchwork of fields and dykes where cows outnumber people, a quaint little city called Leeuwarden is toasting the return of its most famous son. Maurits Cornelius Escher died in 1972 but his exquisite pictures have outlived him, and now the Museum of Friesland is mounting an exhibition devoted to his enigmatic art.
While conventional artists followed the crowd, he created his own world.
MC Escher was unlike any other artist. Immensely popular with the public yet ignored by the art establishment, his delicate artworks stand outside the canon of 20th Century art. While conventional artists followed the crowd, he created his own world. This exhibition charts its evolution. It feels like stepping through a looking glass, into the landscape of a dream.
Escher's Journey is the artistic highlight of Leeuwarden's year as European Capital of Culture, an honour bestowed on a different EU city, in a different EU country, every year. At first glance, Leeuwarden looks an unlikely choice. Even other Netherlanders often dismiss it as a sleepy backwater. Yet this project has a great track record for transforming reputations (remember what it did for Glasgow?) and now it's putting Friesland on the map.
Escher was born in Leeuwarden in 1898, in a handsome townhouse which now houses the city's Ceramics Museum. He left Leeuwarden in 1903, when his parents moved to Arnhem, and it's hard to detect much Friesian influence in his intricate, surreal etchings.
One exception is Dag en Nacht (Day and Night) which the Museum of Friesland has just purchased, the first Escher in its collection. Created in 1938, as the storm clouds of the Second World War began to gather, it depicts flying geese morphing into the flat fields of the Polders.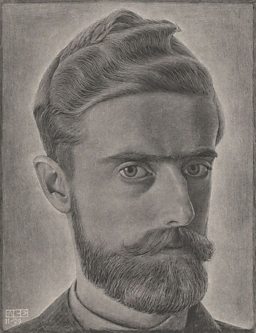 Self-Portrait (1929)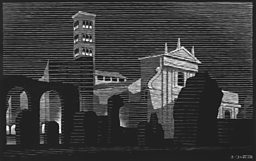 Nocturnal Rome: Santa Francesca Romana (seen from the Basilica of Constantine) (1934)
All Escher's greatest hits are here – Up & Down, Ascending & Descending, Sky & Water. However for anyone already familiar with these elegant and intriguing transmogrifications, it's the portrait of his early years which holds most fresh appeal.
Despite a kindly and wealthy father who gave him every advantage in life, Escher was a hopeless student. "I was a very stupid boy," he recalled, cheerfully. "Secondary school was sheer misery. The drawing lessons were the only saving grace – not because I could draw particularly well, but because they were my only refuge in a terrible time."
After a disastrous attempt to become an architect ("I was never interested in building houses – unless they were mad houses") he switched to graphic art and finally found his niche.
San Gimignano (1922)
At the end of his studies, his parents took him on holiday to Italy. After the muted light and low horizons of his native Netherlands, it was love at first sight. He drew the clifftop houses of Ravello, the medieval skyscapers of San Gimignano, and the Mediterranean shoreline of Amalfi: "the most beautiful coastline in the world".
Supported by his father, Escher stayed on in Italy, and in Ravello he met a Swiss girl called Jetta who became his wife. They moved to Rome together and Escher started to make a living. However the rise of Mussolini prompted them to move back to the Netherlands, shortly before the start of the Second World War.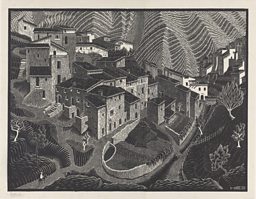 Fara San Martino, Abruzzi (1928)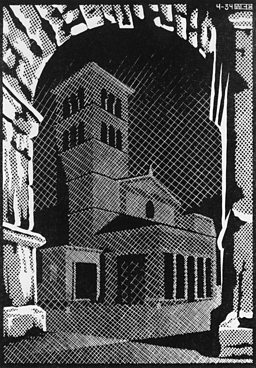 Nocturnal Rome: San Giorgio in Vellabro (seen from the Arch of Giano) (1934)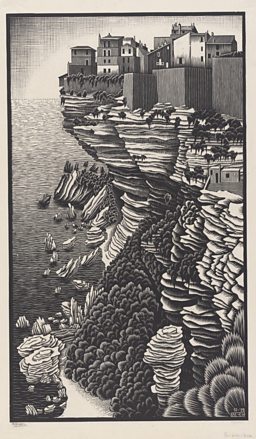 Bonifacio, Corsica (1928)
Escher's timing could hardly have been worse. In 1940 the Nazis invaded and occupied his homeland. They would remain for five long years.
Escher's Journey shows us that he started out as a traveller, rather than a recluse.
Cut off from his beloved Italy, and the scenery that had inspired him, Escher retreated into his own imagination and created the iconic artworks that made him famous. A curse became a blessing – for his art, at least.

That's the conventional view of Escher. This show presents a different picture. Its centrepiece isn't his greatest hits, but his nocturnal studies of Rome before the war.

Unlike his later work, which became increasingly elaborate, these etchings are surprisingly realistic and wonderfully restrained, conjuring up the dreamlike ambience of the eternal city in a few simple blocks of light and shade. Escher's Journey shows us that he started out as a traveller, rather than a recluse shut away in his study with his ideas.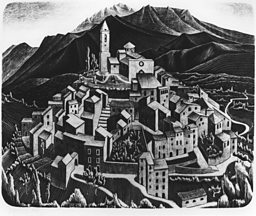 Goriano Sicoli, Abruzzi (1929)
Escher's favourite journey was by freighter from Italy to Spain ("I would like nothing better than to sit on a cargo ship for a whole year and watch the waves") and in Andalucia he found his greatest inspiration. He visited the Moorish palace of Alhambra, and drew and redrew its geometric tiles. It was like a mania, an addiction. He found it hard to tear himself away. It was an utterly alien environment, yet it felt like coming home. No wonder his work feels so separate from 20th Century western art.
Escher dismissed his art as a game, but there was more to it than that. "Most people simply don't understand what it's all about," he wrote, in a letter to his son, George. "In the end, I no longer belong anywhere." In one way, he was right. The critics and curators never understood him. But although he didn't belong in the art world, ordinary people embraced him. And his art will live on forever, stuck on the walls of a million student flats.
All works © The M.C. Escher Company, B.V. All rights reserved. www.mcescher.com Escher's Journey is at the Museum of Friesland from 28 April to 28 October 2018.
More from BBC Arts
All aboard! Trainspotting at the movies as Inside Cinema takes an in-depth survey of trains on film

An interview with the late author from 2011, featuring rarely-seen drafts and lithographs of the title page artwork