Main content
End Of Days: Fallout In The Corridors of Power
By Ciaran Tracey and Chris Warburton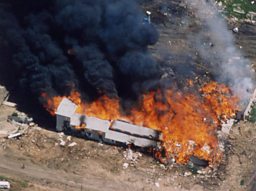 (Photo: FBI)
What happened at Waco was a shock to everyone: not least the British government of the time.
Despite so many Britons being inside the compound, the Foreign Office was not kept abreast of the FBI's plans to mount any kind of final attack on the building.
So the shock and horror in the British corridors of power on that fatal morning in 1993 was all too real.
Lord Renwick was the British Ambassador to the United States in 1993, and is interviewed in End Of Days.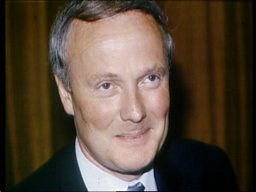 (Lord Renwick. Photo: BBC)
As part of our longer interview, not fully included in the podcast, he was scathing about the way the Waco operation was handled.
The FBI was given the green light to conduct its final attack by the then US Attorney General Janet Reno – now deceased – acting under then President Bill Clinton.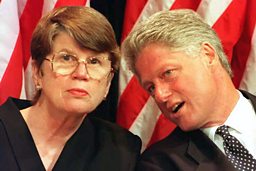 (Janet Reno and Bill Clinton. Photo: AFP/Getty Images)
But as Lord Renwick told us, in his view, Ms Reno's actions were 'incompetent'.
What you can hear in this supplementary interview is the sound of a true diplomatic incident:
Listen to End of Days on BBC Sounds
Click to download and listen to End of Days, the story of David Koresh: the prophet whose cult in Waco, Texas preached an apocalypse – and the 30 Britons taken in by his message.
How one woman strove to expose what was really happening at Mount Carmel.

Manchester's now derelict Edwardian fire station was the location for the Waco inquests.