Main content
Five women who wrote rock
When rock music was being invented in the 1960s, so was music journalism as we know it. These five women, profiled in Radio 4 documentary The Women Who Wrote Rock, helped invent it.

1. Dawn James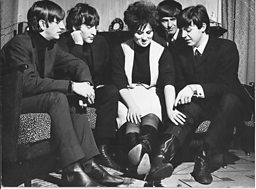 Dawn James with The Beatles
Dawn James, now Dawn Slough, started writing children's literature at the age of 11. She got a job writing for Mirabelle by submitting a piece on Adam Faith who she interviewed after doorstepping him at his home down the street from where she lived.
She went on to write for Rave magazine, where she wrote this about a young Cat Stevens in 1967:
'Despite many friends, Cat is basically a loner. He goes to pop places such as the Cromwellian Club and the Bag o' Nails, but he feels alone most of the time... Isn't he chased by fans all the time? "No. It's a drag, but no-one ever recognizes me. I go on tubes and buses, and walk around the streets, without anyone noticing. I don't feel famous at all, I wish they would recognize me." He looked a bit sad, and I wished they would too.'
2. Maureen Cleave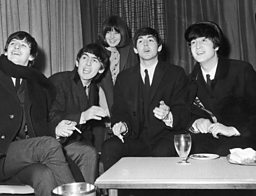 Maureen Cleave with The Beatles
Maureen Cleave first started as a secretary at the Evening Standard. Sent to the editor due to her bad spelling, she pointed out that the paper didn't have a youth page and was promptly told to write it and deliver one for the next day.
Her many interviews over the years that followed included this one one with John Lennon that contained his famous 'bigger-than-Jesus' quote which eventually led to the Beatles giving up touring:
'He still peers down his nose, arrogant as an eagle, although contact lenses have righted the short sight that originally caused the expression. He looks more like Henry VIII than ever now that his face has filled out - he is just as imperious, just as unpredictable, indolent, disorganised, childish, vague, charming and quick-witted...
'Experience has sown few seeds of doubt in him: not that his mind is closed, but it's closed round whatever he believes at the time. "Christianity will go," he said. "It will vanish and shrink. I needn't argue about that; I'm right and I will be proved right. We're more popular than Jesus now; I don't know which will go first - rock'n'roll or Christianity. Jesus was all right but his disciples were thick and ordinary. It's them twisting it that ruins it for me." He is reading extensively about religion.'
3. June Harris
June Harris began writing for Disc magazine and then moved to the US and filed pieces for Rave magazine, before marrying the legendary American rock promoter and agent Frank Barsalona.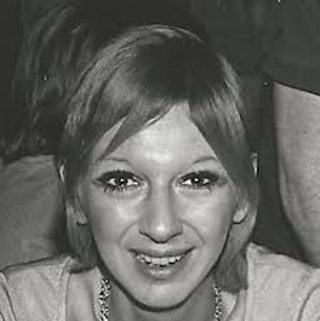 June Harris
She wrote this about Phil Spector:
'He is THE man of the moment, yet Spector still wants to be revolutionary. "Why don't you write something different about me?" he said. "Why don't you say I'm really one of the Rolling Stones in disguise, or I don't produce my own sessions?"'
4. Nancy Lewis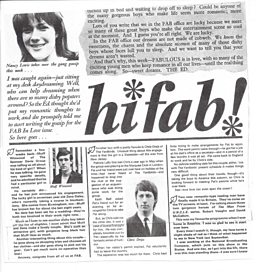 A collage of Nancy Lewis' pieces
Nancy Lewis came from the US and found a job on Fabulous, before returning to the States and writing from there for the NME. Later she joined Track Records to work with the Who and Jimi Hendrix.
Earliy in her career she wrote this about Pete Townsend:
""I think I'd prefer a girl who lives a long way away from London!" said Pete... "I think it would be better if a girl lived some distance out of town and I just saw her occasionally – I think I'd appreciate her more that way." Well, that's how Pete feels about things."
5. Maureen O'Grady
Maureen O'Grady began as a secretary on Boyfriend and became a feature writer only after the legendary (now deceased) Penny Valentine wanted to have a month off for her honeymoon. When the editor refused, Penny resigned and Maureen took her place. When Penny eventually returned to the teen paper, Maureen remained as the lead feature writer. Later she moved to Rave as the only full-time member of staff, to be joined later on by Dawn James and June Harris as freelancers.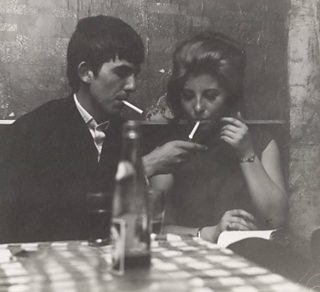 Maureen O'Grady with George Harrison at the Blue Angel in Liverpool, 12 June 1963
In 1968 she wrote the following about Scott Walker:
'Interviewing pop stars is something I never considered a dangerous job until I went to see Scott recently. There he sat, in his uniform of tight slacks, dark glasses, loose sweater - and twirling a gun in his right hand!'





Listen to The Women Who Wrote Rock online now, or download the podcast.
More from Seriously...
Jolyon Jenkins investigates whether meditation can do you more harm than good.

The band member recalls the anarchistic joy of a truly unique group.

The team of recovering addicts who made their mark on cinematic history.

David Aaronovitch on how an Eastern political tract became a Western icon.

David Bowie's interviews reveal his humour, passion and determination to succeed.

Did Nazi leader Hermann Goering have a brother who saved innocent lives from the Holocaust?

A selection of great female authors who have radically altered the genre.

Dream away those mid-winter blues by pondering our selection of fantasy idylls.

Mat Fraser meets the former striptease stars back on the stage in their 70s and 80s.

The legendary radio maker recommends seven great documentaries for Seriously...

A poetic retelling of the Orpheus myth, from the celebrated writer Neil Gaiman.

An aspiring singer-songwriter meets the man who predicted the demise of the music industry decades ago.

What have you learned from our documentaries? Try our fiendishly difficult quiz...

Kellie Redmond explores Disney's fascinating contribution to the war effort.

The Simpsons star, satirist and actor reflects on the flood that devastated his home town of New Orleans.

Meet five codebreaking women who helped beat the Nazis and are still alive to tell their tales.

Seven reasons to love the modern melodic drum that creates a haunting tone.

The award-winning writer on porpoise dissections, stranded whales and beached dolphins.