Main content
How can I stay safe when buying medicines online?
A quarter of GPs have reported treating patients who are suffering from side effects after purchasing medicines on the internet. So if you're thinking of shopping for medication or medical devices online, whether because of convenience, cost or embarrassment – how can you stay safe?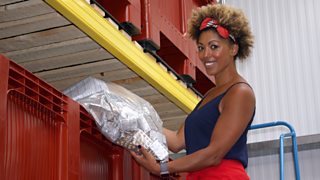 To find out, we spoke with the Medicines and Healthcare products Regulatory Agency (MHRA) who are responsible for making sure that medicines and medical devices sold in the UK are safe and match specific quality standards. They have the power to seize items they believe are being illegally sold, and in recent years they have seized over £50m worth of medicines.
There are certain products that that the MHRA are particularly concerned about, including erectile dysfunction medication, medication being sold as slimming pills and study aids, and medical devices like pregnancy tests and testing kits for sexually transmitted infections. We purchased a selection of these products online and took them to the MHRA for inspection.
Some of the products we received came without labels or packaging, some were not licensed for sale in the UK or had been withdrawn because of safety concerns, and others were prescription medications being sold without a prescription. The consequences of taking products like this could range from it having no effect at all, to it having dangerous side effects and even causing serious harm. We also found that many of home testing kits we ordered did not comply with European and UK standards.
How to stay safe
There are legitimate pharmacy websites offering a safe and legal service. Look carefully at any website – if they are regulated to sell medication they will have a symbol like this (it may contain a UK flag or an EU flag).

Click to verify if this website is operating legally – it will link you to the MHRA website and provide details of the pharmacy – check they match the site you are buying from.

Check the website is secure by looking for the padlock symbol in the address bar. This means any information you enter will be encrypted.

Online auction sites or buy-and-sell sites are not usually licensed to sell medication. If someone is trying to sell prescription medication and is not a pharmacist they are breaking the law.
When your package arrives, check it. Medication should come in a box with a patient information sheet contain instructions on how to take it and information on side effects. If it does not, it's best not to take it.
Medication that is licensed for sale in the UK will have a marketing authorisation number – look for a series of numbers with PL or EU at the beginning.
Check the label – if it says "not suitable for human consumption" then do not take it.
Check medical devices for a CE mark.
If a device doesn't have one, you can't trust it.

Check herbal medication for a THR (Traditional Herbal Remedy) mark with a number. (Some herbal medication will have a market authorisation number instead)

If you choose to buy medication online let your GP know. They may want to monitor your usage or make sure it doesn't interact with anything other medication you are taking.
If you're tempted to shop online because of the cost of medication, remember that prescription medication is free in Northern Ireland, Scotland and Wales; and in England you can get help paying for medication. Depending on your age, income and health you may be entitled to free medication, or if you get more than two prescription items a month, you may benefit from a prescription prepayment certificate. It works out at about £2 a week and could save you money – speak to your pharmacist for more information.
Finally, if the reason you're going online is because you're embarrassed to talk to your doctor – don't be. Your GP is there to help you with any aspect of your health, and there's no need to feel embarrassed or awkward, regardless of what the problem might be.