Main content
Jazzlife: William Claxton's adventures in American jazz
6 September 2016
Jazzlife, photographer William Claxton's 1960 snapshot of 'America's greatest artform', came together on an extended road trip recording the scene in the towns, cities and countryside of the US. ALLAN CAMPBELL introduces a new edition of the classic book alongside a selection of images. Get in the mood with recordings and programmes focusing on Ornette Coleman, Art Pepper, Dinah Washington, Stan Getz and other musicians featured in Claxton's work.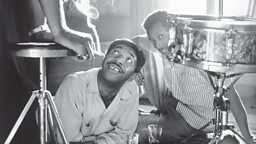 Detail of Philly Joe Jones (left) and Larance Marable, Falcon Lair, Beverly Hills © William Claxton
It's a quote which haunts the late photographer William Claxton. But it's a good one. "Photography is jazz for the eyes". The Californian's passion for the music was inextricably bound up with his photography, first finding professional expression in the early Fifties as art director for Dick Bock's Pacific Jazz label, where he would famously frame a handsome young trumpeter called Chet Baker.
Over the next decade Claxton would photograph most of the jazz musicians who mattered, often for album covers for companies such as Contemporary, Atlantic and, most notably, Blue Note.
All I ask you to do is to listen with your eyes

William Claxton
Years later, when Claxton would find himself increasingly engrossed in the world of fashion and Hollywood (his volume on Steve McQueen and his fast cars is still a classic) it seemed that one of his most extraordinary early projects might simply fade into memory.
In 1960, along with Joachim E. Berendt ("Joe") a musicologist and writer from Baden Baden, who came armed with a cheque book and a Nagra tape recorder, Claxton set about zig zagging across the US for weeks in a rented 1959 Chevrolet Impala on a remarkable jazz adventure. Published a year later under the title Jazzlife, the book offered an unrepeatable snapshot of every aspect of what Joe called "America's most important artform".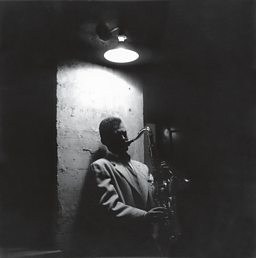 Stan Getz by a stage door on Cosmo Alley, Hollywood © William Claxton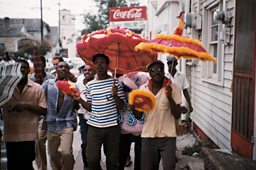 A funeral procession home from the cemetery turns into a joyous occasion and celebration for the dead, with dancing in the streets to the music of the brass bands, New Orleans © William Claxton
From New Orleans brass bands to Baptist gospel choirs and anonymous street players; from rural bluesmen in penitentiaries to legendary musicians, all expressions of the jazz life are seemingly here – in luminous black and white and vibrant colour.
The volume has dipped in and out of print ever since but this latest edition is probably the most impressive version yet – featuring no less than 600 large format pages.
Claxton's request was simple; "All I ask you to do is to listen with your eyes".
The new edition of Jazzlife is published by Taschen.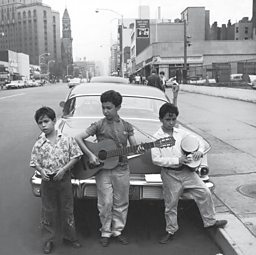 Future jazz musicians, Greenwich Village, New York City © William Claxton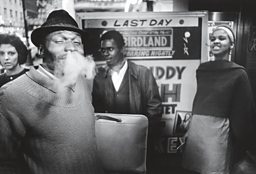 Drummer Elvin Jones outside Birdland, Manhattan, New York City © William Claxton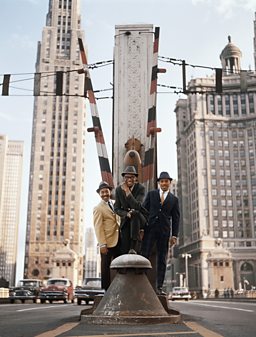 The Ramsey Lewis Trio at Chicago's Loop. Eldee Young (bass), Ramsey Lewis (piano) and Isaac "Redd" Holt (drums) © William Claxton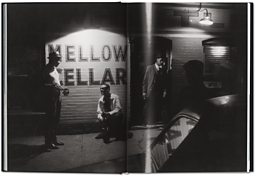 Vincent Pitts (trumpet) and Tony Vaughn (alto saxophone) take a break in front of the Mellow Cellar Club, in St. Louis, Missouri © William Claxton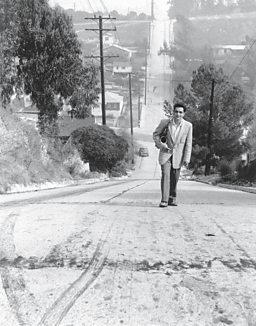 Art Pepper climbing the hill on Fargo Street in Los Angeles near his home, symbolizing his up-hill struggle with his drug addiction and his career © William Claxton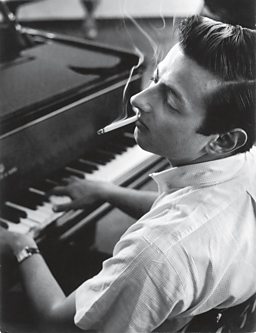 André Previn, Hollywood © William Claxton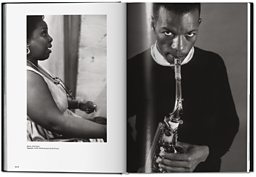 Left: Helen Humes | Right: Ornette Coleman posing for his first LP cover © William Claxton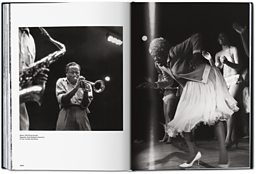 Left: Clifford Brown (trumpet) | Right: Dinah Washington rehearses for her show The Bitter Earth Review © William Claxton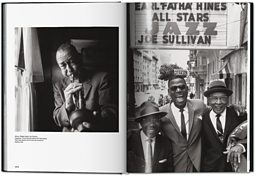 Left: Muggsy Spanier, San Francisco | Right: Jimmy Archey (trombone), Earl Hines (piano), Pops Foster (bass) in front of what was the Hangover Club © William Claxton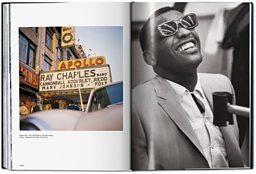 Ray Charles, New York City © William Claxton