Main content
Plod for Pudsey
The North West Tonight team are getting on their walking boots and putting their best feet forward for this years BBC Children in Need appeal.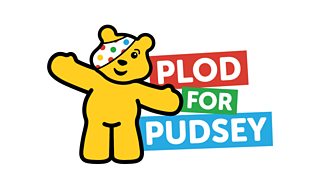 We'll be walking approximately 20 miles down the North West coastline - so 100 miles between Monday, 12 November to Friday, 16 November.
The aim is to highlight the good work BBC Children in Need does in the region and meet the children whose lives have been changed by your generosity.
We also want to see as many fundraisers as possible on our journey and raise plenty of pounds for this great cause - while losing a few ourselves.
You can support our Plod for Pudsey by donating online - click here to donate AND find out more details about where we'll be
By clicking this link you will be moving to the BT MyDonate web page. Please note that this is subject to the BT My Donate Terms & Conditions and Privacy Policy.
Route
Tuesday, 13 November - Bolton Le Sands to Morecambe via Heysham and Lancaster - Beccy Barr and Richard Askam.
8.30am: Start at Red Bank Farm on the Shore at Bolton Le Sands. Then we are going down the Shore to Bolton Le Sands Church of England Primary School.
8.45am: Bolton Le Sands Primary School.
10.30am: Happy Mount Park.
11am: Eric Morecambe Statue.
11.15am: Midland Hotel.
2pm: Dallas Road Primary School.
3pm-4pm: Stop at North Lancashire Cancer Care.
5pm: Walk to Unique Kidz via Lancaster Road, Euston Road, West End Road and Woodhill Lane.
Wednesday, 14 November - Fleetwood to Blackpool - Dianne Oxberry and Stuart Flinders.
08.30am: Start at Fleetwood Leisure Centre.
10.00am: Flakefleet School.
10.30am: Willow Garden Project.
11.00am: Along Broadway and through Victoria Square.
1.00pm: Glynn Square to North Pier, Blackpool.
2.00pm: Stop at Aiming Higher Central for Disabled Children.
3.00pm: Blackpool Pleasure Beach.
3.30pm: Walk behind the beach to New Bonny St and onto Hornby Road.
4.30pm: Head past Blackpool Zoo, Victoria Hospital and to Blackpool Carers Centre by 5.30pm
Thursday, 15 November - Southport to Liverpool - Roger Johnson and Beccy Barr.
8.30am: Start at Southport Pier towards Union Street.
9am: Stop at Monkey Puzzle Nursery.
9.45am: Stop at Southport and Formby Home Start, in the church hall.
10.30am: Along Canning Road route towards the coastal road.
12pm: Walk past Merefield Special School along the coastal road.
2.15pm: Walk along Crosby front to Cambridge Road.
3pm: Pass along the A565 by the war memorial onto Hertford Road.
4pm: Stop at Community By Nature in Bootle.
4.30pm: Head towards the Bluecoat via Queens Road, Bankhall Street and the Strand by 5.30pm.
Friday, 16 November - Wirral coastline - Annabel Tiffin and Dianne Oxberry.
8.30am: Start from Oakleaf Bereavment Service, Liverpool.
9.30am: Catch the Mersey Ferry to Seacombe.
9.40am: Dock at Seacombe and walk to Croxteth Avenue.
10.40am: Stop at Stick n Step charity.
11.10am: Leave Stick and Step and head to the Promenade.
12.20pm: Visit the Black Pearl pirate ship then on to the start of the North Wirral Coastal Way.
1.30pm: Walk along the North Wirral Coastal path.
3pm: Welcome at Leasowe Lighthouse and the Coast Guard's station.
3.30pm: Walk through Wallasey Village back to Stick and Step by 5.30pm.