Main content
Hearty Chicken
Cooking time 40 minutes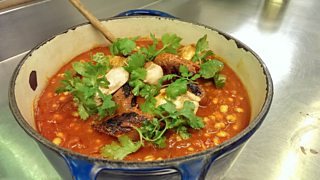 150G Chorizo sausages (2 sausages)
2 white onions
6 Cloves of garlic
2 tbsp smoked paprika
1 tbsp ground cumin
½ Ttsp chilli flakes
200ml Chicken stock
1 Tin chopped tomatoes
3 tbsp tomato puree
4 chicken breasts (400g)
1 tin of cooked butter beans
1 lemon
1 bunch of coriander
Method
Remove the skin from the chorizo and dice into small chunks.
Place into a warm pot and cook for 5 minutes to release the oil from the chorizo.
Dice the onions and mince the garlic, then add to the pot, cook for 10 minutes at a low temp until soft.
Add the spices, then the tomato paste, chopped tomatoes and the stock, cook slowly for 25 minutes.
Take your chicken breasts and dice them into 40g chunks and place in a hot pan to colour. When coloured remove chicken and place into the stew with your tin of butter beans and cook for 12 – 15 minutes.
To finish your stew add the juice from 1 lemon and a bunch of chopped coriander.