Main content
Community Champions of South Yorkshire and North Derbyshire: Finalists
The finalists have been chosen for the first ever Community Champions of South Yorkshire and North Derbyshire.

We've teamed up with the charity The South Yorkshire Community Foundation to find the unsung heroes across our patch, the people or organisations who go the extra mile to make things better where they live.

We had 350 nominations sent in and they've now been whittled down to 24 finalists in eight different categories. The winners will be unveiled at a glittering awards ceremony at Sheffield Cathedral on Thursday 3 October and we'll be featuring the stories of all the finalists on The Toby Foster Breakfast Show throughout September 2019.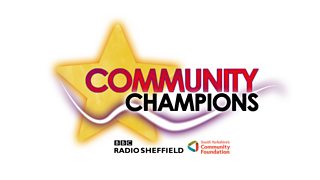 The nominees
Neighbourhood and Environmental Champion

Jennifer Oxley. Nominated for her vision and passion to help regenerate run down communities, Jennifer runs Snickety Gardens in Edenthorpe, Doncaster, a project that transforms blighted alleyways into gardens.


Sahira Irshad. Set up a Mums United project in the Sharrow area of Sheffield to tackle anti-social behaviour, knife crime and drug selling.


Frederick Turner. Described as a man in his mid-70s who gives everything he has to the former mining community of Stainforth in Doncaster.
Creative Champion

Sherri Wood. A volunteer for Cantley SMILE days in Doncaster who has developed and run dance and arts activities for all ages.


Rachel Horne. Set up the independent magazine Doncopolitan, devoting her life to ensuring the creativity of Doncaster is recognised and shouted about.


Vicky Morris. Described as dedicated to making writing an inclusive, accessible art for everyone across South Yorkshire, regardless of sexuality, race or religion.
Health, fitness & wellbeing champion

De Hood Boxing Centre. An organisation based in a deprived area of Sheffield which is said to have transformed the area, reduced crime and turned around lives. One nominator said De Hood had turned Britain's worst estate into the country's most positive estate.


Unity Gym. A place in Broomhall, Sheffield, helping young people and families develop new skills for work and personal development.


Jan Milner. Creator of Retro Rovers, a walking football club in Doncaster with 80 members. Despite her own disabilities, Jan is the driving force behind the project.
Team champion

Volunteers of Fareshare. Sixty volunteers from Barnsley said to make an incredible difference to the lives of vulnerable people, thanks to distributing in-date food that would otherwise go to waste.


Kickback Recovery. A peer led support group in Sheffield that helps people with drug and alcohol addiction and mental health issues.


Andrea Sanders and Hackenthorpe Litter Pickers. A group that is active all year, organiser Andrea has also supported many other groups to set up litter picks.
Young champion

Alana Habergham-Rice. Eleven year old Alana is known in the Kiveton area as someone who bakes cakes and delivers them to lonely and isolated people, to people in poor health or to just people who are having a bad day.


Philippa Walker. Philippa is 15 years old and despite wearing a back brace for 20 hours a day she works tirelessly to raise funds for Sheffield Children's Hospital. She suffers from Scoliosis and has made a video of her condition to be sent to schools across Sheffield.


Adil Mohammed. For years Adil has campaigned on community issues in the Darnall area of Sheffield, from litter picks to clearing snow to leading the campaign to save his local youth centre.
Community Group Champion

Buzz. A group that's supported vulnerable families for more than 20 years and is said to have made a difference to the lives of 20,000 people.


Adedolapo Agoro. Nominated as a powerful force in advocating for the rights of minority ethnic groups across Doncaster.


Edlington Community Association. A charity with 60 volunteers which is said to be making a huge difference to the lives of people in Edlington.
Business Champion

Marc Wildes. MD at Hotel Van Dyk in Chesterfield, Marc is nominated for using his position to give back to the community at every opportunity.


Drone Valley Brewery. Based in Dronfield, this is a brewery with 400 members that donates profits to good causes and relies on hundreds of volunteers alongside qualified brewers.


Dave McCarthy SUFC. Dave is Operations Manager at Sheffield United who is said to have given immense support to children and young adults over the years.
Outstanding Champion

Kathy Markwick. Described as a force to be reckoned with. Her tea parties for lonely and isolated people started in Barnsley and have spread across South Yorkshire, catering for up to 250 people at a time.


Reagan Denton. Creator of De Hood Boxing Centre in a deprived area of Sheffield, Reagan is said to be an inspiration in turning around the community and helping people rebuild their lives.


Jason Cotton and Frazer Longford. Two volunteers who run Men Talk in Chesterfield, said to have helped hundreds of men with their suicide prevention and better mental health programmes.