Main content
A Fond Farewell Chat with James Anderson...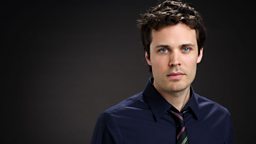 Better known as Dr Oliver Valentine, we caught up with James as he bowed out of the show.
What was it like filming Ollie's last episode?
I had a lot invested in it because Holby has been such an incredibly special place to be. I wanted to make sure that I did a good job for myself, but also that I did a good job for a show that has been an important part of my life for a long time. I was apprehensive for all of those reasons, but thrilled because we had a great team and I was really proud of it.
You've had a bit of time to reflect since filming – what do you miss about Holby?
I know everyone says it – but it is a family. It's a bit like a foster home for itinerant creatives. People come and go but there's a constant there, which is unlike any other show in the profession. People may be there for a week or, like me, over four years – either way you feel at home. It's an incredibly caring place so you feel supported when you're doing creative work but also when you're not working, it's a very nurturing environment. For me, starting out as a very inexperienced screen actor, I couldn't think of a better place to be. I've forged amazing friendships which I will carry with me. I miss everyone…but not the 6 o'clock starts.
What are some of your favourite Ollie moments?
I like it when he's tested. The original brief for the character was that he was unflappable and that everything came easily to him. As an actor I like it when it doesn't come easy and he's flappable; when things are a bit wrong with him. I think you want to see conflict and struggle and all of those things. Unfortunately this did mean losing a sister and then a wife, but fortunately it's not real.
All those moments where you see someone fail a little bit – that was the fun for me. Especially with the death of Penny and then Tara, you get to see Ollie find who he is off the back of that. I think that was rewarding for me and hopefully for people who enjoyed watching it.
I also like his slapstick moments, for instance when he ran into lamppost. That particular episode was directed by John Yorke, who was at the time controller of Drama Production. He really relished that moment, although I have to admit I felt a bit under prepared. It was a real, metal lamppost and they basically strapped a bit of foam to it and asked me to run full tilt into it. 
What do you think Ollie's legacy will be?
Who knows – that depends on the writers! It could be he's forgotten in a couple of weeks, maybe just a picture of him in the staff room. He probably had the closest relationship with Elliot and Jac. Jac is too inscrutable to show anything. Elliot is such a caring individual, there was very much a father/son bond between the two of them – perhaps he will remember Ollie the most.
Who are you going to miss the most?
Rosie and Paul are the two I've worked with the most. In the last few months I've worked really closely with Paul. I have love for everyone who works on Holby, but it should be said that Paul is an incredible individual as an actor: he's professional, clever, talented - he ticks all the boxes, but also as a force on set he is effervescent. I've been thinking about it – I went to the David Bowie exhibition at the V&A recently and I think Paul fits into a similar category in a weird way. He's a renaissance man who's interested in everything artistically – he goes to ballet, art shows, photography exhibits, theatre, film, he's a musician in his own right. That interest in all aspects of art and culture is so important and it really translates in his work. It's a shame more of us aren't like that because more stuff is available to us in the modern age and our interests have become so much wider, but there's something a bit binary about how things have gone. Paul really absorbs everything and brings it all to his work.
I can't speak highly enough about the cast as a whole – but Darwin rocks. Darwin is the best.
What do you think will happen next for Ollie?
He leaves in a positive light, which I found I genuinely cared about for some reason. I really wanted to see him leave with some hope and with a future and with opportunity. He's not in a great place, but he admits that and I think that's a very true moment for him. It felt right.
When we were talking about how Ollie would leave months ago I was really keen that he didn't destroy himself – which you think he might do in some of the episodes leading up to his exit. I like that he left quietly - no big explosion, no "get out of my pub", but it was an enduring moment. I was able to relate to it on a personal level and I am very proud of that story. I think that it's got a great truth to it and it's nice because it's open ended – so who knows, years from now you may see a grizzled husk return to the ward with an incredibly long beard and a sort of vacant look in his eye as if he's seen troubles. Never say never.
Holby City Q&As
Read (or watch) all our interviews with the Holby cast and crew here...
We caught up with Marc Elliott to find out what's in store for Holby's latest arrival, Issac.

Rob Ostlere and the Holby production team look back at the much-loved character's exit.

Jemma Redgrave, Oliver Kent and Simon Harper on introducing Holby City's newest recruit.