Main content
Preventing credit card fraud
Anyone with a credit card is a potential target for fraudsters. As wary and cautious as you might be, it's easier than you think to be taken in by sophisticated scams.
The Real Hustle tackle credit card fraud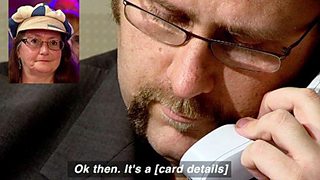 Watchdog carried out an experiment demonstrating the effectiveness of an old-style scam. Mock fraudsters, Paul and Alexis from The Real Hustle, showed just how easily they were able to gain victims' credit card details over the phone.
Out of the ten calls made, the hustlers managed to gain the trust of five of the targets and convince them to hand over their card details, including the all-important three-digit security code.
Methods of credit card fraud
As well as this method of 'Card-not-present' fraud, credit card fraud can take many different forms:
When cards are lost or stolen and used fraudulently
When cards are counterfeited or cloned (known as 'skimming')
'Card-not-present' fraud – which can occur online, by fax or phone using stolen card details
Fake emails designed to elicit your details (known as 'phishing')
Fake online banking websites designed to mimic banks' official sites ('pharming')
How to stay safe
As well as keeping your card details safe and secure, there are some common sense golden rules you can follow to protect your details and avoid falling victim to credit card fraud.
Mark Bowerman, from Financial Fraud Action UK, says: "Don't be a fraud statistic. If you follow recommended fraud prevention advice - such as never telling anyone your PIN or your passwords - you are minimising your chances of falling prey to a fraudster."
The recommended advice from Financial Fraud Action UK is:
Never let your cards or card details out of your sight when making a transaction.
Destroy, or ideally, shred, any documents or receipts containing personal financial information when you dispose of them.
Don't write down your passwords, login details and PINs.
Don't disclose PINs, login details or passwords in response to unsolicited emails or callers claiming to be from your bank, the card companies or the police.
Only divulge your card details in a telephone transaction when you have instigated the call and are familiar with the company.
Register your cards with Verified by Visa or MasterCard SecureCode.
Access internet banking or shopping sites by typing the address into your browser.
When entering your PIN in a shop or a cash machine use your free hand to shield the number from prying eyes or hidden cameras.
Make sure your computer has up-to-date anti-virus software and a firewall installed and switched on.
Shop at secure websites by ensuring that the security icon (locked padlock or unbroken key symbol) is showing in your browser window.
Always log out after shopping and save the confirmation email as a record of your purchase.