Main content
Fantastic sights hidden within the folds of UK's least-loved map
Of all Ordnance Survey's UK maps, Explorer 440 sells the least amount of copies. Lack of interest in the map, which covers Glen Cassley and Glen Oykel in the Highlands, might suggest the area has little to offer visitors. But as the Landward team discovered, this neglected corner of Scotland, north of Inverness and near the popular NC500 route, is home to some spectacular scenery and wildlife.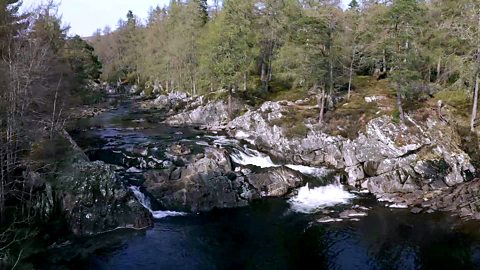 Ghillie Harry MacNeil shows Euan Mcilwraith a beautiful but rarely seen waterfall.
Latest features from BBC Scotland
Ewan McGregor narrates these foxes' first step into a larger world.

BBC Scotland's series of programmes that chart the monumental rise of hip-hop.

Marjolein and Ransom FA talk about their respective hometowns of Lerwick and Aberdeen.

Do cashless payments benefit both business and consumer?

The award-winning team behind BBC ALBA's FUNC take aim at the US President.

Rose Reilly won the 1984 Women's World Cup after playing at the highest level in Serie A.

A tea grower in Perthshire believes low temperatures give her plants a unique flavour.

Changing your driving style could benefit your wallet.

Police Scotland's murder investigation team allowed camera access to harrowing murder case.

Sisters Onnagh and Breagha Cuinn are a riot grrrl two-piece from North Scotland.

Alistair Heather talks to schoolchildren taking part in the inaugural Doric Film Festival.