Main content
Six things we learned about Hayley Atwell
Hayley Atwell has just starred in the most successful film of all time, Marvel's Avengers: Endgame, reprising the role of Agent Peggy Carter, which she first played in 2011 in the superhero film Captain America: The First Avenger. She's currently appearing in Duncan Macmillan's new adaptation of Henrik Ibsen's Rosmersholm at The Duke of York's Theatre, London.
1. Is Endgame going to be Agent Carter's last film?
"This is the thing about Marvel. It's this spider web of parallel worlds and universes, and it's such a gigantic franchise, that anything's possible. Chronologically we know that my character lives to about 96. We know what from The Winter Soldier. So if she starts off in the 30s and 40s, I'd love to see her in power suits in the 80s, or being part of the civil rights movements or going to Woodstock."
2. Does she regret that her Avengers character doesn't have a superpower?
Although Agent Carter is different from the other Avengers characters because she doesn't have superpowers, Hayley loves her because she's a strong woman who uses that as her superpower. "She doesn't have superpowers, but she has a super inner strength and she fights for justice and morality, and she's very smart."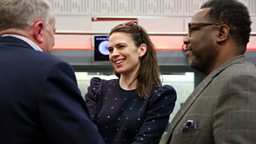 3. How much input did she have into the portrayal of her character?
"I wanted to make sure my experience was not playing someone that was overly sexualised, someone that was part of a studio system that locked me down, to be a cookie cutter mould of what I wanted. They very much let me do what I wanted: to make choices based on what the script was instinctively telling me." They gave Agent Carter her own spinoff series, "which was validation that I have a voice within that franchise".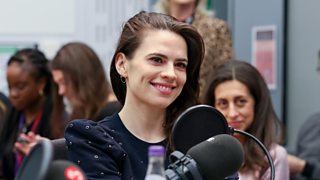 4. That Ibsen play she's in, the one with the unpronounceable name, how do you say it?
People can't pronounce the name of the play she's in…"At first we were going 'Rumblebum… Rashmagash?" But it's actually Rosmersholm, like Stockholm.
5. Which is the more dangerous role – Avengers or Ibsen?
The play is taking its toll on her even more than the Avengers films. "I'm covered in bruises from the West End stage, and I'm very proud of them. They're my battle scars." She's as much a badass in her new play as she is when playing Agent Carter. "I come in and I kick a chair over, it goes flying, and I break open some shutters."
6. And what roles would she still like to play on the stage?
Hayley puts out a come-and-get-me for any theatre impresarios with the right role: "I'm classically trained. I always wanted to have a bash at the great parts for women and the female canon — and also some of the men. I'd love to play Iago, just putting that out there…"
Loose Ends is on BBC Radio 4 on Saturdays at 6.15pm, Mondays at 11.30am and is available as a podcast on BBC Sounds