Main content
Please Miss, May I Have Some Help?
One of the hardest things in any task is where to start, and ideas for a story are no exception! My greatest advice for inspiring children to write is simple: read. Delving into worlds created by others and living lives with characters who come to feel like friends can only help us create our own.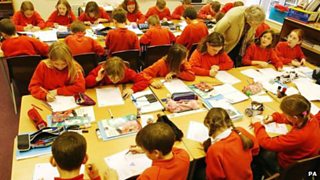 Emma Harris, Teacher and 500 Words judge.
Many teachers will know that heart-sinking feeling when their students ask the question 'how much do we have to write?'

Emma Harris
New, original ideas come from those things that spark our imagination; that make us think. If you are working with a child who struggles to instantly deliver a complete plot, try prompting them with pictures that offer intrigue and make them question what is happening. Or my personal favourite tip: people watching. Do people walking down the street ever catch your attention? Who are they? Where are they going? What is happening in their life? Build the story around them.
When it comes to working with children to create stories, technical knowledge can help get their head around what a story should be. A plot needs to be formed, one with a clear beginning, climax and satisfactory ending, particularly when only using 500 words. Experiment in your classroom with perspective, tense and their effects. Play around with sentence structure, noun phrases and showing how a character is feeling rather than simply stating it. Every teacher wants to see a student develop a story with enthusiasm and motivation, so let a child own their work.
As teachers we wouldn't often encourage competition between pupils, but the great thing about 500 Words is that it's bigger than the classroom. Old rivalries, insecurities and experiences don't matter and every single member of the class can enter as equals. The competition also provides a real purpose for writing. It will be read by someone other than their teacher – it could be heard by thousands. Their stories won't just be forgotten about in an exercise book; their audience is real and huge. This is the motivation pupils need and an opportunity teachers seek.
Many teachers will know that heart-sinking feeling when their students ask the question 'how much do we have to write?'. 500 Words is a manageable limit, the goal is clearly in sight and is one which can sustain the students' focus. Most entrants do become obsessive about checking word counts. But this isn't a bad thing! Often this means that they are forced to read and re-read their work to check its accuracy and make it the best piece of work possible. This dedication to drafting and editing work develops independence as a writer that teachers have been trying to encourage for years.
By Emma Harris, teacher and 500 Words volunteer judge
More from 500 Words
Honorary 500 Words Judge HRH The Duchess of Cornwall appears in our special animation.

Everything you need to know about Radio 2's short story-writing competition for kids.