Main content
Bombay potatoes
TV chef Anjum Anand demonstrates her recipe for Bombay potatoes.
Bombay potatoes
A classic restaurant dish, these tasty potatoes go with anything. The recipe is taken from 'Anjum's Indian Vegetarian Feast' (published by Quadrille, photo by Emma Lee).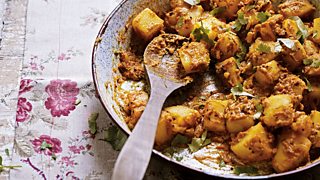 Sign up to the Cook the Perfect newsletter, or subscribe to our free download, to be kept up to date with all cookery items.
Tips and techniques
If you have time, boil the potatoes whole as they absorb less water
Cook the seeds briefly to allow them to release their flavour, before adding the onions. Let the onions cook for a few minutes before adding the garlic, to prevent burning. Add powdered spices after you've added liquid - again, this will avoid burning.
Turmeric is a 'superfood'. It's known to have anti-viral, anti-fungal and anti-bacterial properties, and it's good for the skin. In India, it's often added to hot milk as a rememdy for colds. Use a small amount often for good general health.
This is a great dish for introducing children to Indian food - just go easy on the spices and leave out the chilli powder.
Ingredients
Salt, to taste
3 large potatoes (around 900g, halved)
15g root ginger, peeled weight
3 garlic cloves, peeled
2 large-ish tomatoes, one quartered, the other cut into slim wedges
4 tbsp vegetable oil
¾ tsp cumin seeds
1 tsp mustard seeds
1 large onion, roughly chopped
½ tsp turmeric
2 tsp ground coriander
1 tsp ground cumin
1 tsp garam masala
½-¾ tsp chilli powder
Large handful of chopped coriander leaves
Preparation method
Bring a large pot of water to the boil and salt it well. Place in the potatoes and boil until just tender (up to 30 minutes). When cool enough to handle, peel and chop into 2.5cm cubes.
Blend together the ginger, garlic, and quartered tomato until smooth.
Heat the oil in a large non-stick frying pan. Add the cumin and mustard seeds and, once the cumin starts to darken, add the onion. Cook for a minute before adding the ginger and garlic mixture, the ground spices and salt. Sauté gently for one to two minutes or until the garlic smells cooked. If you are not sure, taste; it should seem harmonious.
Add the tomato wedges, stir well and cook for three to four minutes. Tip in the potatoes and cook for three to five minutes to absorb the flavours. Check the seasoning, stir in the chopped coriander and serve.
Serves 4-6
More Food on the BBC
Browse our selection of recipes from top chefs, cooks and food writers who have joined us on Woman's Hour. .

Download this interview, of subscribe to the Cook the Perfect...downloads. .