Main content
Greg James is looking for some brilliant people to shine a light on this Christmas
Here's how to nominate someone in your life who deserves a little treat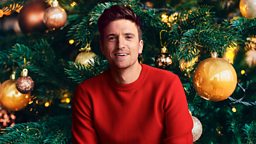 Greg James is hoping to spread some positivity this Christmas on Radio 1 Breakfast. As the year draws to a close, we want to shine a light on a few of the brilliant people who are close to you, and bring a bit of festive cheer to everyone listening in the process.
We are looking for you to nominate someone in your life who you think deserves a little treat - this could be because they have helped out in the local community; had a bit of a difficult year; or been supportive to someone else going through a difficult time.
The closing date for submitting nominations is 10am on Thursday 5 December 2019.
If we think we may be able to include your story, we'll get back in touch in the next couple of weeks.
We wish we could feature everyone who's written to us but unfortunately we just don't have the time.
But please rest assured that the Radio 1 elves will have read every single email and we are also looking to find the best way of giving shout-outs to as many people as possible in the run up to Christmas, so please keep listening to the show!
Privacy Notice
Your trust is very important to us. The BBC is committed to protecting the privacy and security of your personal information and the personal information of the individual you have nominated. It is important that you read this notice so that you are aware of how and why we are using such information. This privacy notice describes how we collect and use personal information about you during and after your relationship with us, in accordance with data protection law.
Why are we collecting personal information?
The BBC production team will collect your personal information and the personal information of the individual you have nominated for the purposes of determining who should be chosen to receive a gift or experience. This information is also collected so that we can contact you if your nomination is chosen to feature on the show.
What information are we collecting?
The BBC will collect and process the personal information that you have provided to us about yourself and the individual you are nominating. We will collect the following personal data:
The personal data is:
• Your name
• Nominee's name
• Address of the Nominee
• Age of the Nominee
• Your mobile or landline number
• Your Email address
• Your gender and the Nominee's gender
It is possible the BBC will also collect and process special category data depending on the content of your story. This might include for example:
• Information around a medical condition
• Ethnicity
• Religious views
Who is the Data Controller?
The BBC is the "data controller" of your personal information. This means that the BBC decides what your personal information is used for, and the ways in which it is processed. For the avoidance of any doubt, your personal information will be collected and processed solely for the purposes set out in this privacy notice. As the data controller, the BBC has the responsibility to comply, and to demonstrate compliance with, data protection law.
What is the lawful basis for processing?
Your personal data will be processed for journalistic purposes.
Do we share your personal information with Third Parties?
The BBC will not share your personal information with any third parties.
Retention Period
The BBC will retain your personal information for a period of 3 months. At which point your personal information will be deleted.
Your Rights and how to contact us
If you have any questions about how the BBC handles your personal information, or if you wish to contact the BBC to exercise your rights of access to, and/or rectify, erase, object to or restrict processing of your personal data, please contact us via post or email at DataProtectionEnquiries@bbc.co.uk.
Should you wish to contact the BBC's Data Protection Officer, you can do so by post or via email at dpa.officer@bbc.co.uk.
If you wish to raise a complaint with the BBC about the way it has handled your personal information and you are dissatisfied with the BBC's response, you are entitled to lodge a complaint with a supervisory authority. In the UK, the supervisory authority is the Information Commissioner's Office (ICO), which can be contacted here.