Main content
Help Greg James crack the Radio 1 Escape Room code
He just needs six-digits to get free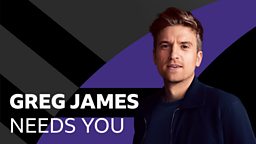 During Radio 1 Breakfast on 18 February, Greg James was escorted off the premises by a security guard, driven to a mystery location and bundled into Radio 1's Escape Room.
He's locked in until he figures out a six-digit code. There are clues in the room and we will be updating this page as they come in. All you have to do is tweet your hints using the hashtag #R1EscapeRoom to help free Greg.
Greg James is locked in until he figures out that code. There are a million potential combinations for the code but the number isn't random - if we all work together this is possible.
Here are the clues we have so far...
1 | A star studded hangman
Well that didn't take long! Greg managed to crack the hangman with your help.
The common theme? The six artists all have songs with stars in the title.
Ellie Goulding Starry Eyed
Tinie Tempah Written In The Stars
Kendrick Lamar All The Stars
Coldplay Sky Full of Stars
One Republic Counting Stars
Lady Gaga A Star Is Born
But what does it all mean?
Listeners are now dreaming up six-digit codes from the above.
How many BRIT Awards have they won? Where did these songs chart? Or simply how many times do they say the word star in the song?
There's got to be a six-digit code in there somewhere.
2 | Shake, rattle... puzzle?
Greg may have taken his time to tackle the daunting puzzle he was presented with upon his arrival to the escape room (he didn't even have a reference picture to work off), but after buckling down on Monday night, he finally made some progress and saw a massive breakthrough too!
After sharing a photo of what looks like a boxing scene with the phrase "Shake, Rattle & Roll", fans soon began speculating what it could mean. Theories range from Halley's Comet (Shake, Rattle & Roll was made famous by Bill Haley & His Comets) to Ricky Hatton (whose walk-out music was Blue Moon).
There's a link to Ainsley Harriot in there somewhere. Because of course there is.
Ricky Hatton's boxing entrance music was Shake, Rattle & Roll, by Bill Haley and the Comets (the one from the jigsaw!). Ainsley danced to the exact same song the week he left Strictly Come Dancing, back in October 2015.
And this would tie with listeners' guesses that Claudia Winkleman, host of Strictly, is the voice behind that mysterious "hello" clue.
Oh, and did we mention Jill (from "Why, hello Jill!" fame when Ainsley frightened her on This Morning in 2018)? Her surname is Hatton.
3 | The very confusing grid
A very helpful listener called Mia pointed out that the baffling diagram on the wall actually relates to notes on a piano. "Those little blocks are piano keys," she explained.
After hearing a short musical clip, it was just about deciphered that the notes in question were E,G,A.
Listener Jack thought it sounded like the Postman Pat theme. He also pointed out that there was an episode of the children's show where the titular character delivered a spacesuit, with the episode airing on 29th March 2017 - but sadly those digits 290317 didn't work.
However, Greg received a note shortly after that included the phrase, "Just as the day is dawning", which those following at home have pointed out to be a line from the Postman Pat theme.
Is Greg getting close?
4 | The mysterious clock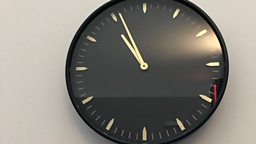 You were early to spot this... There's something up with the Escape Room clock.
It's stuck on the same time, 10:56. Surely this means something.
Matt in Cumbria thought it had something to do with the first moon landing, which took place on 20th July 1969 at precisely 10:56pm EDT. Keying in 200769 didn't work, however.
There's also a mirror in the room, which displays the time at 13:04pm. Surely this is a clue.
5 | The music boxes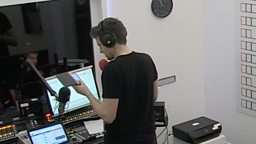 The next clue could be a big one.
Just as listener Rebecca called up to say she thought the grid represented a sound wave, a music box popped through Greg's letterbox.
Hitting play on the music box, Greg heard two seconds of music – a rough-sounding guitar strum.
The song is Listen to the Music by The Doobie Brothers, released in 1972. But Greg reckons there are two other songs hiding in there.
Listeners think it's:
Listen to the Music by The Doobie Brothers
Listen to the Man by George Ezra
Listen by Beyoncé
Listen back to the snippet of music Greg was given
And at 11.30 on Tuesday, another music box arrived. This time, it played what Greg recognised as Feel Good Inc. by Gorillaz.
And it just so happened that Ainsley Harriot has a cookbook called Feel-Good Cookbook.
This is where it gets complicated / exciting.
This elaborate game may have started a couple of weeks ago.
On February 11, Greg gave away a copy of Ainsley Harriott's Feel-Good Cookbook, first released in 2006. Star listener Claudia was the recipient because she'd been having a tough time in a relationship.
Standard stuff. Or was it? Greg had previously been told to "listen to the stars", aka his star listeners. And he'd been given a mysterious voice clip from someone who sounded remarkably like Strictly Come Dancing host Claudia Winkleman. Was star listener Claudia involved somehow?
In the Escape Room, something twigged and Greg remembered giving the book away. "I remember saying on air: 'This is weird, it's from 2006.' There's something not right about that.
"And I think someone from my team planted that book, in order for this moment right now to make sense. Or not make sense. The seeds were being sewn a few weeks ago."
Shortly after, a guy called Nick from the BBC's courier service called to say Claudia is getting a delivery to her place between 2-3pm.