Main content
Remembering Sir Terry Wogan's Visit To Ambridge
May, 1989: in time for The Archers' 10,000th episode, Terry Wogan arrives at Grey Gables where he's playing in a charity golf tournament. He's greeted by Jack Woolley (Arnold Peters), Peggy Archer (June Spencer) and Pru Forrest (a special cameo from Judi Dench). The usually silent Pru plans to give Terry a welcoming speech but despite some nudging from Jack she dries up on the spot.
As Terry settles into his room, he gets a surprise visit from Pru who presents him with her welcoming gift of some damson cheese. Having found her voice, Pru tells Terry about meeting another DJ - Jimmy Young - some years ago. The cheeky Irishman's delighted when Pru points out that Terry's much younger.
Pru asks Terry to look at her speech for the festival that he's kindly attending. After a misunderstanding about when to speak, Pru interrupts Terry as he addresses the crowd. She's so embarrassed that she vows never to speak in public again! (seems she was true to her word)
Listen to a memorable scene between Terry and Pru Forrest (Judi Dench).
When Terry came to Ambridge - and met Pru Forrest (Judi Dench)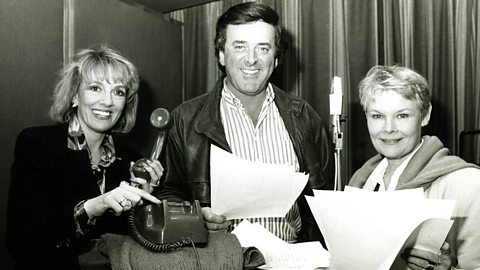 When Terry came to Ambridge - and was rather taken by Pru Forrest (played by Judi Dench)
Terry Wogan in Ambridge - Radio Times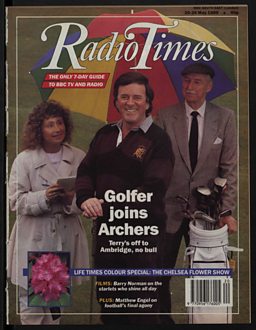 Radio Times cover from 1989
Tributes to Sir Terry Wogan