Main content
Online Bullying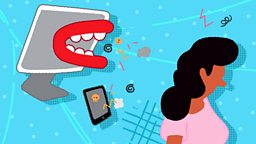 Cases of online bullying are on the increase, and they can be just as serious and hurtful as face to face bullying.
To round off our special Anti-Online Bullying week, we brought together our Radio 1 vloggers for a special discussion about online negativity. We've put together a recap of what happened on the night on Twitter.

Have a look at our ultimate Dos and Don'ts of social media, illustrated with mostly made-up posts from BBC Radio 1 DJs!
BBC Advice factfiles are here to point young people in the right direction of organisations who may be able to help you.
The BBC is not responsible for the content of external websites.
This factfile was last updated on 1 July 2019.