Main content
Do you have a brilliant idea for a podcast?
THIS COMPETITION HAS NOW CLOSED. THANK YOU FOR YOUR INTEREST.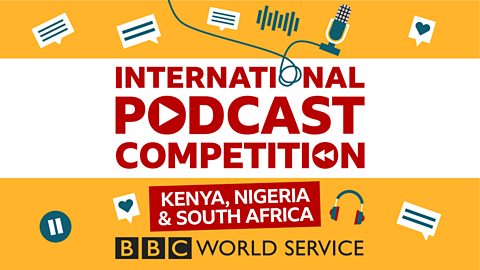 Sharon Machira explains how people living in Kenya, Nigeria and South Africa can enter
This is the BBC World Service's first ever international podcast competition.
For 2021, it's open to people living in Kenya, Nigeria and South Africa.
To enter, you must be 18 years old or over, not already a professional in broadcast media or have a credit on a commercial podcast, and the idea you submit must not already exist as a podcast or radio programme.
We're looking for the most creative, interesting and original podcast idea, which can be a success around the world. We're particularly interested in ideas that resonate with women.
You can find out more about whether you are eligible to enter, and what we are looking for, by reading our terms and conditions.
What's the prize?
The winning idea will become a BBC World Service podcast. You will produce it with the support of a BBC production team.
How does it work?
To apply, you will need to complete an online application form with a summary of your original podcast idea and upload a 2 minute piece of audio in which you describe what makes it distinctive.
Find out how to enter the BBC World Service International Podcast Competition by visiting our online entry form.
The competition opens 5 January and the closing date for submissions is 1300 GMT, 22 January 2021.
Before you enter, please read our terms and conditions.
Please also see our privacy notice.
What is a podcast?
A podcast is an audio show, but you can download it and listen whenever you like. Podcasts are free from the restraints of traditional radio programmes: they can be any length, and they often have quite a personal, intimate tone, as many people like to listen to them on their own with headphones. They can be about anything, and any format - from discussion and debates, informal chats to investigative journalism and documentaries.
Podcasts from BBC World Service English
The BBC World Service is a major player in the global podcast industry, with award-winning podcasts like 13 Minutes to the Moon, about the Apollo space missions, and Death in Ice Valley, which investigated the mysterious death of a woman in Norway in 1970. In 2020, the BBC World Service launched The Comb, a new podcast for young listeners in Africa, presented by Zimbabwean journalist Kim Chakanetsa, which combs through a different story each week from across the continent. The Global News Podcast is the BBC's most successful podcast, with 167 million downloads in 2019. Kalki Presents: My Indian Life, with Bollywood actor, Kalki Koechlin, has been reaching young listeners in India. Other notable podcasts include Goodbye to All This, 30 Animals That Made Us Smarter, The Hurricane Tapes and The Bomb.
For any queries, please contact podcast.comp@bbc.co.uk - but please note that entries will not be accepted via email.