Main content
Emancipation
Cod loin, cod dashi, squid ink powder, crispy potato, scorched gem lettuce and gold shoots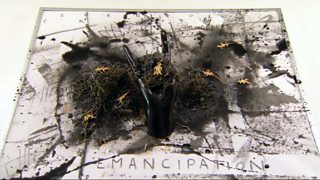 Emancipation
Ingredients
For the cod loin
1 XL cod loin
150g sea salt
100g caster sugar
White wine vinegar
For the cod dashi
500ml chicken stock
25g hon dashi
10 medium cod skins
1 garlic clove
1g squid ink powder
For the squid ink powder
100g squid ink powder
35g malt vinegar powder
For the crispy potatoes
3 Maris piper potatoes
For the shallots
2 large banana shallots
500ml Olive oil
For the scorched gem lettuce
2 baby gem lettuce
5g sea salt
For the parsley oil
1 bunch parsley
150ml olive oil
To garnish
Forced shoots
Gold spray
Method
1. Skin and trim the cod into 150g portions. Mix the salt and sugar together and bury cod in the mix. Leave for 25minutes.Wash the cod and pat dry. Vac pack with 50ml of peanut oil and cook at 56 ºC in a water bath for 15minutes or, alternatively, place in a bamboo steamer, over a pan of white wine vinegar and steam for 8 minutes.
2. For the cod dashi, roast the cod skins in the oven at 180ºC for 20 minutes. Scorch lightly with a blow torch and add to a pan with the chicken stock. Add the sliced garlic and simmer for 20 minutes. Pass through chinois sieve then season with the hon dashi.
3. To make the squid ink powder, mix the powders together and keep in flour shaker.
4. For the crispy potatoes, peel and slice the potatoes into fine julienne strips using a mandolin. Wash under constant running water for 15minutes to remove all starch. Fry at 180ºC in a deep fat fryer until golden brown in a pan. Season with salt lightly.
5. For the shallots, peel and julienne the shallots finely and place into a pan. Cover with olive oil and increase the heat. Allow to froth up, remove from oil and drain when soft. Mix with the potatoes.
6. For the scorched gem lettuce, blend the olive oil with the parsley. Allow to drip through a muslin cloth for 10 minutes. Peel the outside leaves of the lettuce and place in a vacuum bag with 50 ml of oil and a pinch of salt. Vacuum pack on full and steam in the bag for 4-5mins or until cooked thoroughly. Remove from bag and drain. Open up the lettuce whilst warm and scorch lightly with a blow torch. Alternatively, scorch the lettuce from raw in a pan, fry for 2 minutes then place in a bamboo steamer and steam for 2 minutes.
7. Spray the shoots lightly with gold colouring and allow to dry for 5 minutes.