Main content
Choux Pastry Eclairs
Choux paste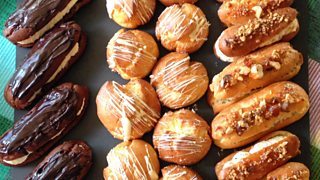 70g strong flour
60g water
60g whole milk
45g butter
½ tsp salt
1 tsp sugar
3 eggs, beaten
Chantilly cream
300g whipping cream
1 tbsp icing sugar
1 vanilla pod, split lengthwise and seeds only

Glaze
200g white fondant icing
1 tsbp golden syrup
30g strawberry jam or 20g cocoa powder

1. Preheat the oven to 200°C/180°C fan. Line a baking tray with baking paper.

2. For the choux paste; Sift the flour onto a sheet of baking paper. Heat the water, milk, salt and butter in a pan with the sugar. Bring it to simmering point then tip in the flour in one go.

3. Beat the mixture with a wooden spoon vigorously until the mixture comes together. Return to a low heat and beat until the dough is smooth, glossy and comes away from the sides of the pan, about 2 mins. Remove from the heat to cool.

4. When cold beat in the eggs one at a time until the dough is shiny, paste like and just falls from a wooden spoon when lightly shaken. You don't need all the eggs or may need more.

5. Place dough into piping bags and pipe into 7cm lines on the prepared trays. Sprinkle with water.

6. Bake for 15 mins, open the door to let the steam out and lower the heat to 180°C/160°C fan for another 7-10 mins or until browning and firm. Remove from the oven and poke a hole in the ends of each bun the return to the oven for 3-5 mins or until firm. Cool on a wire rack.

7. For the Chantilly cream: whip the cream, icing sugar and vanilla together until firm peaks. Transfer to a piping bag and chill until needed.

8. For the glaze; gently heat the fondant icing, golden syrup and jam or cocoa powder until melted adding a little water if needed to loosen it.

9. To assemble; take each éclair dip the top into the glaze. Use your fingers or a palette knife to spread the glaze. Pipe the Chantilly cream into the centre using the hole made earlier.