Main content
Three creative ideas for tackling childhood obesity
What happens if you take twelve of the country's brightest young minds and ask them to find solutions to a complex policy problem in just one day?
In The Fix, three teams of young professionals were challenged to come up with new and creative solutions for tackling childhood obesity, before pitching them to a panel of judges just a few hours later.
A policy designer led them through the day using idea-generating techniques increasingly being used by governments around the world. What did they learn from following the weekly diet of a child from an area with a high incidence of high obesity? Did focusing on ways to exacerbate the problem help them to create ideas to fix it? Could they prove their policy idea is tangible by physically constructing it out of pipe cleaners and string?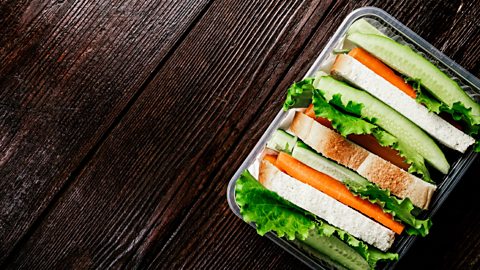 The team try out a daily food diary of a child from an area of high obesity.
At the end of the process the young high flyers pitched three innovative and ambitious ideas to the judges (Dawn Austwick of the Big Lottery Fund and David Willetts, former cabinet minister). Just one would be picked as the winning idea…
Solution 1: A new app for community services
Worried that parents aren't always aware of the existing services available to them, Team 1 proposed building a new app that would offer a platform for all service providers in the community.
The app would be launched at a local "do festival" – at a school fete or similar event, which parents are already likely to be attending. In exchange for signing up for the app, parents would get to sample delicious, healthy food and a representative from the "do community" would be on hand to inform them about local activities and services in their area. The app would set reminders about these activities, and parents would also be able to rate them via the platform.
The app would offer service providers a way to reach more people within the community, whilst helping those who are currently disengaged to take advantage of what's on offer.
What the judges thought:
Pro: The app would be a good means of informing people of services available in their community.
Con: With other apps already in existence they need further persuading that this one offers something unique.
Solution 2: Competitive supper club
Team 2 wanted to answer the question, "How can we get kids to make the healthy choice a habit?"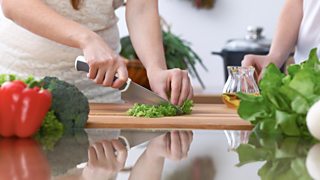 How can we get kids to make the healthy choice a habit?
Their proposed solution was a supper club competition after school where parents and kids could cook and eat together.
The school would be sent a physical tool kit to get them started, with initial funding for starter packs being generated by a soft drinks levy. Initially the event would be trialled at a few schools, and ambassadors within those schools selected. This would hopefully then snowball into celebrity ambassadors and sponsors: Theresa May could share her favourite chicken fajita recipe! There would also be a digital element for tracking and storing information from the clubs.
The supper club would encourage good habits for preparing food; make eating a sociable event; and by introducing an element of competition would help the kids to feel pride in their school and area. By targeting children at a young age (5 to 12 year olds) the members would be able to take the good habits forward into their teenage years.
What the judges thought:
Pro: The judges thought it smart to take an existing activity – parents and children coming together after school – and turn it into something that addresses an important social issue. And it's great to make it fun.
Con: It would rely heavily on motivated individuals, which could make it a hard project to sustain over time.
Solution 3: "Try, Swap, Cut and Think"
Team 3 was concerned that there is a lack of understanding around how to make your diet healthier. So they came up with a simple framework for kids, parents and organisations, to help them get to grips with the basics.
The framework would be called, 'Four good things: to Try, to Swap, to Cut and to Think.' First, it would encourage families to 'try' new recipes and different cooking techniques. Second, to 'swap' to a healthier option: change a fizzy drink for a juice, or drop chips for corn. Third, it would advise people to 'cut' down their portions, and reduce the amount of salt and sugar in their meals. And finally to 'think' about what they're doing and why, and to share that with their friends.
It would be about recognising that obesity is a 'complicated conversation' and that for many people healthy seems like an expensive and scary concept. The aim would be to demystify the language around healthy eating, and to move away from blaming towards enabling.
What the judges thought:
Pro: The ideas are well thought out and the message effective.
Con: The framework is 'floating in the abstract.' Who would give out these slogans? Would it be celebrities or a public agency? Some advertising campaigns can be very successful but it depends who is behind them…
And the winner for the best creative idea for tackling childhood obesity was…
The judges both concluded that the idea with the greatest potential to be developed further was the school supper club. Watch this space!
The teams have just one day to find solutions to the problem of childhood obesity.