Main content
Radio 4 and Kew Gardens Join Forces To Explore the History of Plant Science
Radio 4 and Kew Gardens join forces to explore history of plant science
Created in partnership with the Royal Botanic Gardens, Kew, and presented by Kew's Director of Science, Professor Kathy Willis, Plants: From Roots To Riches features unprecedented access to the rich heritage and ongoing work of scientists at one of the world's oldest botanical institutions.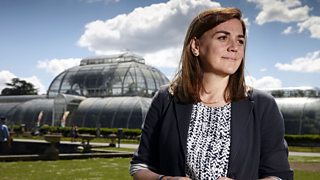 "It is an absolute privilege to be able to take this journey of discovery and tell the story of people and plants over the past 250 years. Britain's botanical heritage is incredibly rich in compelling, memorable tales of adventure and discovery, politics and conflict, breathtaking beauty and, ultimately, our dependency on plants."

Professor Kathy Willis
The 25-part series begins by delving into Kew's archive and its world-class collections – including the herbarium of over seven million preserved plant specimens – to tell the story of how modern botany was born around the time of Kew's establishment in 1759. It will go on to examine how subsequent changes in scientific, economic and social preoccupations have influenced our attitudes to plants – from tools to exploit for food, fuel and industry, to objects of beauty, to being an essential global resource that must be conserved.
The series opens with Kew's oldest resident, the palm-like cycad, Encephalartos altensteinii, that was brought to the Royal Gardens in 1775. It belongs to a group of plants with incredible longevity, stretching back around 280 million years, surviving multiple climate changes, outliving the dinosaurs and pre-dating most mammals. Its arrival at Kew coincided with the establishment of a system of plant naming that continues to dominate plant science today.
Among the other extraordinary stories told in the series is how the race between Kew and Chatsworth House to flower the first giant Amazonian water-lily led to new possibilities in glasshouse design and ultimately to Crystal Palace, the greatest glasshouse ever built.
Another story is related to Kew's pivotal role in the development of the rubber trade, acting as an international clearing house transporting rubber seeds from South America via Kew to Southeast Asia, where the rubber trade took off.
The series concludes by looking to the future and considering the role of plants in providing the Earth's natural capital, from food, water and fuel to ecosystem services like climate regulation and provision of cultural services.
Every episode of Plants: From Roots To Riches will be available to download. All episodes will be kept online forever, creating a rich and unique resource charting the birth of modern botany through to the modern day.