Main content
Terrific Scientific Exercise - Live Lesson
Terrific Scientific Exercise - Live Lesson
How does activity affect me?
We're kicking off the autumn term with a Terrific Scientific Live Lesson all about exercise, and the impact it has on our brain.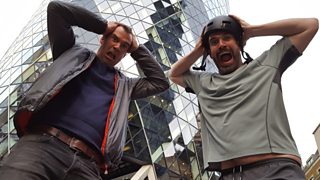 Presented by stars of Operation Ouch! and Trust Me I'm a Doctor, Dr Chris and Dr Xand van Tulleken this Live Lesson will look at how physical activity affects how we think, feel, behave and concentrate.
We'll investigate the role of the main organs in the human body – focusing on the brain, with a look at the lungs and the heart, and circulatory system. This Live Lesson is designed to work alongside Investigation 6 of the BBC's Terrific Scientific campaign, exploring how exercise affects thinking skills and how we feel.
From August until October, schools all over the UK will be investigating and submitting their results to the Terrific Scientific map.
This lesson is aimed Key Stage 2 / 2nd level pupils.
Want to get involved?
If you are sending in any images or videos that feature children, please ensure that you have parental permission, as they may be shown during the Live Lesson and on our website. In the email, please confirm your official relationship to the child/children featured, e.g. teacher, Brownie group leader, sports coach etc. and confirm that you have sought prior parental consent.
Please also ensure the material is not sensitive or controversial. Read our Terms and Conditions for more information.
For more information about all the investigations taking place in this UK wide primary science initiative, go to the Terrific Scientific website
Get ready for Live Lesson
Find out more about the lesson content and what you need to prepare with our handy lesson guide.
Find out more about the presenters and special guests on our BBC Terrific Scientific Exercise Live Lesson.