Main content
Vic Galloway – 25 Scottish Artists to Watch in 2021
After what has been a hellish year for us all, let's hope the forthcoming 12 months is going to see a full renaissance for live shows, festivals and releases, to breathe life back into a music community that has been hit hard by the pandemic. Come on 2021!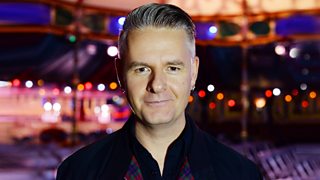 Every year I compile a list of interesting, up and coming Scottish artists that I think people should keep an eye on. As 2020 was such a write-off and no-one could do much, I've included a few acts from last year's list here.
Obviously a load of others will no doubt make essential new music for us all too, but here are a few names to watch...
In alphabetical order:
For new and classic alternative music from Scotland and beyond, keep checking the weekly radio shows live on air every Monday and via BBC Sounds.
All the best for 2021 – let's hope it's a lot better than 2020!
Cheeers,
Vic xxx
Music on BBC Radio Scotland
Live performances from across the musical landscape recorded in front of an audience at BBC Radio Scotland's Pacific Quay.

Join Vic Galloway for the best in new music, classic tracks, gig reviews, votes, vinyl, MP3s and just about everything else

Bruce MacGregor presents Radio Scotland's flagship folk programme and brings you the very best of today's music and song.

End the day in the company of the song writing masters of country, folk, blues, soul and rock'n'roll.

Seonaid Aitken presents interviews, sessions and artist profiles plus jazz from across the sub-genres.

Jamie MacDougall plays the iconic classical music that's the soundtrack to our lives and tells the stories behind the music-making.

Nicola Meighan plays pop favourites and rarities from round the corner and around the world; including punk and soul hits, 80's classics, indie, rockabilly, reggae and contemporary artists.

Ricky Ross enters the musical landscape of Americana and alternative country. Featuring new and classic tracks, with Ricky taking a closer look at the stories behind the songs