Main content
Watch Foals perform at Kew Gardens Temperate House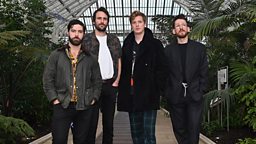 On Annie Mac's show this week, listeners were treated to an exclusive performance from Foals, straight from the world's biggest Victorian glasshouse - the Temperate House at Kew Gardens.
And it was the ideal setting for one of the world's best live bands to celebrate the release of new album Everything Not Saved Will Be Lost Part 1.
Listen: Foals live from Kew Gardens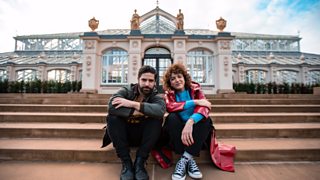 The band play six tracks at the Temperate House at Kew Gardens and Annie Mac chats to Yannis about the band's fifth album. Listen back here.
Everything Not Saved Will Be Lost Part 2 is due this September, completing a massive double-album that makes the four-year wait since 2015's What Went Down 100% worth it for Foals fans.
Yannis sat down with Annie to talk the future, the departure of founding member Walter Gervers, and why their double album was something of an accident.
On loaning new bassist Jeremy Pritchard from Everything Everything:
"He's almost as nice as Walter," laughed Yannis. "We become friends through touring. He is quite a hard road dog and his secret weapon is he can sing falsetto. It's surprisingly difficult to find a bass player who can sing falsetto."
On making two new albums:
"We weren't expecting to go in and do a double record. We ended up with this huge volume of stuff and felt the best way to put it out into the world would be to fashion two records.
"We felt like there were two palettes to it; two opening tracks, two closing tracks, two clear bodies of work amongst the songs.
"It's a big project and there's no real better way than setting it off than in a grand building like this."
On the state of the UK:
"It's an inspiring time. There's a lot to write songs about. There's a lot going on and it's a good time to be making art or music in general.
"All the chaos, the nonsense and the noise that's out there – I think it just make those times as a listener, spending time with records, even more precious. You realise how much of amazing thing music can be as a place of refuge, and as a place of enjoyment and fun as well, and a release to get away from that grinding background.
"Whether it's in the newspapers, online, or on your commute. As a band, we're understanding how to harness the power of music."
On their next steps:
"We're excited about all the UK dates coming out in June. Then album two will come out after the summer.
"We'll have a new lease of life, write a new set and have new tracks. It's good to be busy, it feels great to be fulfilled creatively."
And if that wasn't enough, we also have the first episode of Music That Made Me. You can watch BBC Radio 1's Jack Saunders speak to Yannis and Jimmy Smith from Foals.
Everything Not Saved Will be Lost Part 1 is out now and will be followed by Part 2 in the autumn. In the meantime, you can catch Foals on the road as they tour Europe and the US in 2019.