Main content
Thirty Seconds to Mars just performed the most magical mash-up of all time in the Live Lounge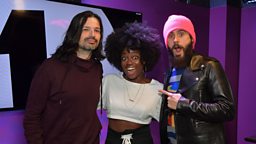 Before it all kicked off, Grimmy got the 411 from Jared himself...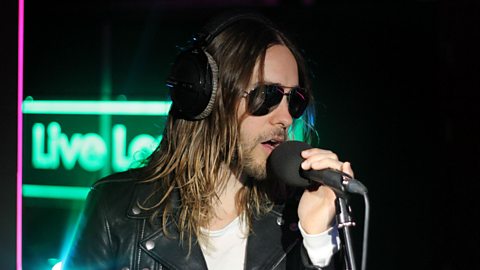 The 30 Seconds to Mars frontman talked all things Live Lounge Month.
Prior to setting foot on Radio 1 soil, the seasoned singer (and, lest we forget, Oscar winner) gave Grimmy the lowdown on the band's plans for Live Lounge domination and shared his love for London...
"Oh my god, I do love it here. It's one of my favourite places in the world. I love to walk around the city and explore. I've been coming to London since I was kid so it means a lot to me."
And, in case you've ever wondered, Jared's fave Brit snack is none other than a *drum roll, please!* KINDER EGG! Whodathunkit, eh?
"I remember when I was younger I used to come and eat those eggs that had, like, a toy in them or something? Which seems really dangerous because if you're chewing on that, it's probably bad news."
He's got a point, you know...
They blew us out of the, well, water with Walk On Water
Enlisting the help of a gospel choir to kick off their set, the guys explained the meaning behind their latest track, Walk On Water:
This is a song that really speaks to the time that we're living in

Jared Leto
"It's a crazy time! This is a song that really speaks to the time that we're living in. It's a song about change, it's a song about freedom and it's great to have the choir here because it's really a gospel song."
But when you're belting out a track, a la Walk On Water, surely your vocal chords take a battering, right? Turns out that Jared foregoes a warble warm-up for something slightly different...
"When you do the Live Lounge you'll do anything. You'll start praying if it helps. A little baby Jesus never hurt nobody."
The lights dim. The jingle plays. Clara introduces the band. What's going through the band's minds in that moment?
"Getting in the zone! I probably think 'oh, I hope it all works out OK'. It's usually mostly about your voice because it's such a fragile instrument. If you stay up to late or you sing too much or you sing too little or you don't warm up enough, you warm up too much - it's all these different parameters that can serve it one way or another."
Think you could guess their cover track? Think again...
One word: WOW.
This might be the mash-up to end all mash-ups, at least for us

Jared Leto
Before blowing us out of the water for the second time in under 20 minutes, the band dished on what inspired them to bring such a magical medley to our airwaves...
"Because it's the 50th anniversary and we've done this before, three other times, and we felt like we had to do something totally different. This might be the mash-up to end all mash-ups, at least for us. It's a tribute to the beautiful and incredibly talented musicians that have inspired us and we're really excited to do this song."
Featuring David Bowie's Heroes, Prince's Purple Rain, George Michael's Freedom, Soundgarden's Black Hole Sun and Linkin Park's Crawling, we're pretty sure this is the mash-up to end all mash-ups. You weren't wrong, chaps.
They rounded it all up by throwing it back to Kings and Queens
Your emotions might be all over the shop after that glorious mash-up but set some feels aside for Thirty Seconds to Mars' classic track: Kings and Queens.
Speaking about their love for the Live Lounge (the feeling's mutual!) Jared got all sorts of soppy:
"The Live Lounge has been really important for us and we don't take it for granted. We're really honoured to be back.
"This is the fourth time over 10 years. There's always a lot of pressure, excitement, anticipation. I think there's such a long history of really great performances that it pushes you to step up and to make really brave creative choices.
"You guys have helped change our lives at Radio 1. Doing Kanye's Stronger, doing Lady Gaga and doing Rihanna's Stay - those songs really impacted us, it impacted our audience, it introduced new people to Thirty Seconds to Mars and it's been wonderful."
Right back atcha, guys.