Main content
"So many women are reluctant to talk about how they feel after having a baby."
On the 24th of August, my husband and I welcomed our baby boy into the riot that is 2020. Motherhood has been everything I imagined and more. My life truly has changed and I love my son more than anything. But one thing I hadn't prepared myself for, was how significantly different I would look and feel in my body after having my baby.
I know it sounds silly as it took 9 months for my body to grow a human being and in turn my life is completely different, so why would I look and feel the same?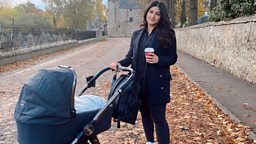 From celebrities to social media influencers, the notion of "snapping back" is something that everybody likes to flaunt, and therefore almost every mother thinks about. If Kate could pop out a baby, and still look a size 8 hours later outside the hospital, then why couldn't I? Kim Kardashian was likened to a sofa while pregnant and it seems like her pre-pregnancy body was swapped out for her like a game of Sims. And then there is me, still no horizon to be found for when I will finally fit into my old pair of jeans.
This may sound like an issue of vanity to some but that couldn't be less true. A recent study showed that many women who have been diagnosed with postpartum depression are going through it because they have a poor outlook on their body image.
That doesn't mean we're ungrateful for our baby or not seeing the bigger picture. For me personally, my body and baby are two separate entities. I don't associate the negative feeling towards my body with my baby. The joy that I feel when my son is in my arms can often be overshadowed if I catch a glimpse of myself in the mirror. And I wish this wasn't the case. The difference between this and vanity is that I recognise it's not how I should be feeling and before it manifests itself, I am more than willing to get the right kind of help for it. My weight has been a source of my anxiety prior to being pregnant and it is not something that I want in the forefront of my life when my priorities have significantly changed.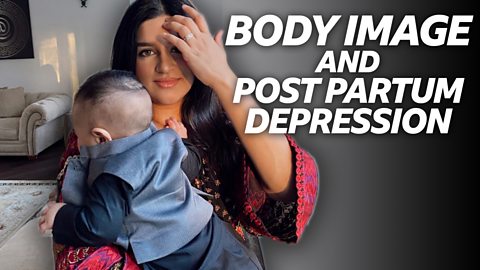 "So many women are reluctant to talk about how they feel after having a baby."
Mum shaming is at an all time high. Criticisms that were once said in person by a few people can be said by the hundreds online, and because of this, people are often reluctant to talk about how they feel mentally after having a baby. I touched on this topic on social media after quite the internal debate over the fear that I might be judged. But the hundreds of messages I received from both new and older mums with feelings that echoed my own made me feel less lonely in my thoughts. It's important to emphasise that if you know how you're feeling isn't right and you want to talk about it, that that in itself has made you an amazing mum. It is drilled into us, both during pregnancy and after our babies are born, that we know what is best for our baby. Our own physical and mental wellbeing is not something that should be taken lightly when it comes to the care of our children.
Every single person should be able to talk about how they feel without the added pressure of what society might think of them. There is no shame in speaking about your mental state, and no shame in looking for help.