Main content
Chocolate Brownie With Sea Salt And Chocolate Syrup
Serves 6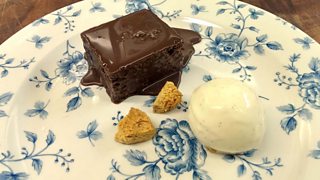 Cooking time 25minutes
Cooking temp 160 fan assist/gas mark 4
For the brownie
110g butter
140g dark chocolate 70%
200g castor sugar
3 whole eggs
100g flour
5g flaked sea salt
For the syrup
100g dark chocolate 70%
100g water
100g sugar
100g whipping cream
METHOD
Preheat your oven to 160 degrees.
For the brownie start by chopping your chocolate into small pieces and do the same with your butter.
Place both into a glass bowl and place the bowl over a small pot with hot water in it.
Place on a low heat and stir the chocolate and butter until melted. Do not let the water in the pot boil, any water or steam gets into your chocolate mix it will split your mix, and that's no good. Once melted set aside.
Whisk your eggs and sugar by machine as this mix needs to double in size and if you do this by hand you'll need to go to bed for an hour or so to recover.
Once the egg mix has doubled in size add your warm chocolate/butter mix and then gently fold in the flour.
Spread the mix in a small non-stick tray or line a normal one carefully with baking paper. Sprinkle with sea salt and bang it into your oven for 25 – 30 minutes. When cooked you are looking for the brownie to be crispy around the sides, but a little soft in the middle.
Once cooked set aside to cool
For the syrup
In one pot heat the water and sugar together just until boiling point and in another pot heat your cream but don't boil it!
Pour the hot water/sugar mix over your chopped chocolate and mix until melted then whisk in the warm cream.