Main content
Pizza Boxes
Pizza Boxes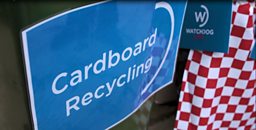 Pizza Boxes
Pizza Boxes - 2nd May 2018
Which bin do you put your greasy pizza box into when you're finished with it? If you put it in the recycling – you could be getting it wrong. It turns out that although many pizza company's boxes state that they are 100% recyclable, this is only the case if they are completely clean – and as soon as they have grease on they risk contaminating the rest of the recycling. Queen of the Jungle Georgia "Toff" Toffolo investigates whether market leaders Domino's, Papa John's and Pizza Hut could make the information on their boxes clearer.
Domino's statement:
Our pizza boxes are 100% recyclable, we're committed to improving waste reduction and are looking at how we can provide better guidance to our customers.
Pizza Hut Delivery statement:
Our cardboard pizza boxes can be recycled, however we understand that some councils will not accept heavily soiled packaging. This varies from council to council and is dependent on their definition of 'soiled' and the infrastructure they have in place to process recycling. We will review the information printed on our pizza boxes to encourage customers to remove any food waste and are willing to work with local councils to understand how we can help them ensure that pizza boxes are recycled as much as possible.
Papa John's statement:
"Papa John's values the importance of recycling and sustainability when it comes to our pizza boxes. The message on our box is a clear call-to action to actively encourage our customers to recycle. All of our boxes are recyclable and we have been assured by our UK and Italian box suppliers, who both own recycling facilities as well, that grease stained or marked boxes do not pose a problem to recycling. However, if a box happens be excessively grease-stained we would encourage customers to remove or discard that portion of the box prior to recycling. Additionally, we recommend any solid food debris be removed. If cleaning is impossible the box should be discarded. We are committed to educating and encouraging our customers to recycle and are exploring ways to make our products and packaging more sustainable. Will be posting these tips to our website as well as a few helpful links from the Confederation of Paper Industries (CPI), Confederation of European Paper Industries (CEPI) and the Pizza Pasta & Italian Food Association (PAPA)."