Main content
Seven tips for making yourself funnier
Do you wish you were funnier? Wouldn't it be great if you could inject some laughs into that big presentation or wedding speech? Well, you're in luck because the competitors for this year's BBC Introducing Radio 4 Comedy Award have seven top tips on how to get better at getting a laugh…
Mark Watson hosts the final of Radio 4's hunt for the best new comedians, from the Edinburgh Fringe.
Take your time
Time moves so slowly when everyone's looking at you. Make sure you pace your speech so people can take in what you're saying. Give people room to laugh. They might take a second to get it – let them enjoy it. People want you to do well. If you're doing a speech, presentation or trying stand up for the first time, keep in mind no one is there to have a bad time. They want you to be funny, they want you to succeed. Hannah Platt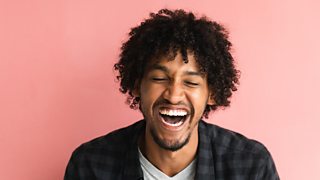 Be yourself
Just be yourself! The funniest people I know are my parents and they're never trying to be funny. They're just being their brilliant selves! Janine Harouni
Practice, practice, practice
It takes a lot of effort to seem unrehearsed. The more time you practise your speech in front of the mirror, the better it will be on stage. Never, ever, ever wing it. Seriously. Never. Helena Langdon
Fake it till you make it
Sometimes you might feel unsure of yourself and you'll just have to pretend that you are. People can be easily swayed by someone they think believes in her/himself. Luke Chilton
Do whatever you can to inject yourself with some confidence. Channel your inner mediocre white guy – his name is Chad. Chad ain't afraid of nothin'. Kemah Bob
Be concise
Essential details only. Fewer words is better. Luke Chilton
Don't take yourself too seriously! Abandon everything society has taught you about self-respect, decorum and social filters (within reason), live life as a confident idiot and be proud to revel in your mistakes and express your weird thoughts and feelings. Deep down we're all dysfunctional oddballs, be the one who's comfortable with it. People will connect with your honesty. Joe Hobbs
Don't try too hard to be funny; the funniest person in the room is often not the "class clown", instead it can be the person who listens to everyone else and says something witty at the perfect time. Hannah Fairweather
And if all else fails
Wear a bucket hat. Guaranteed laughs. Joe Hobbs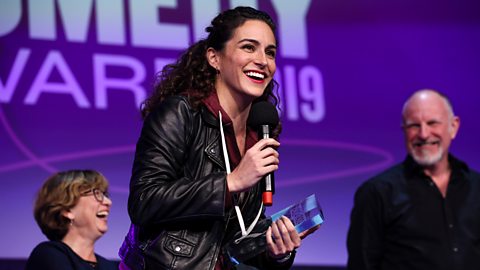 Janine Harouni's winning set from the final of the BBC Introducing Radio 4 Comedy Award.
Watch winning sets and discover more comedians who took to the stage.