Main content
Nine things we learned from Tom Kerridge's Desert Island Discs
The chef and TV presenter Tom Kerridge made his name with his Buckinghamshire pub The Hand and Flowers, which he opened with his wife in 2005. It is the only British pub with two Michelin stars. Tom began working in restaurant kitchens at the age of 18 and was quickly hooked by the world he found, with its adrenalin rushes, constant pressures and camaraderie. More recently his weight loss made headlines. He shed 12 stone after deciding to make radical changes to his life as he reached 40. He has published five cook books, and presented numerous TV shows, including Tom Kerridge's Lose Weight for Good.
Here's what we learned from his conversation with Lauren Laverne on Desert Island Discs: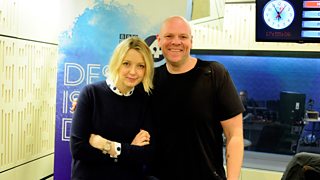 1. When money was short, his mum would improvise a Sunday roast – and he loved it
Tom's mum, a single parent, couldn't always afford a joint of meat. "She would quite often get a sausage meat packet from one of the supermarkets and she would often roast that as the joint," he says. "We'd still have the vegetables: the cabbage, the carrots, the broccoli, the roast potatoes… and that was such a joy for me."
2. He worked 48 hour shifts to keep his pub going during the recession
In 2008, Tom's business was struggling to stay afloat. On Fridays he would work from 6.30am until midnight, and then spend all night baking: "We would do a pop-up bakery and sell probably about 200 loaves of bread that I'd make overnight, but then I would go straight back in for lunch service on Saturday morning and I would go through, all the way through, to the end of Saturday night."
3. He sees cooking as a craft – like building
Tom doesn't view his Michelin-starred food as art: "For me it is like a trade, like I'm a builder, I'm a carpenter... you lay a foundation, flavour foundations, the process of cooking, the understanding of how to cut and cook different cuts of meat – an understanding of salt and savoury, acidity levels – they're all just building blocks in creating a dish, which is like building a house."
4. He has a favourite track to kick-start an early shift in the kitchen
Tom's fifth choice of disc for the island is Everybody in the Place by The Prodigy. "This is a real motivator," he says. "It's one if you're on a breakfast shift, no one wants a chilled song in the morning, you want this – this wakes you up and gets you cooking breakfast!'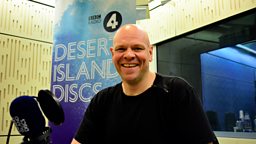 5. He no longer drinks after becoming dependent on alcohol
Tom loved his work hard, party hard lifestyle, but there was a point when he realised he had a problem: "When you drive around with a case of beer and a bottle of gin [in the boot of your car] just in case you're working somewhere that night and the bar is closed by the time you get there."
Looking back, he now says, "I don't regret a single minute of it, but I do feel massively uncomfortable thinking of that person – and every now and then, I miss that guy, I miss the chaos, I miss the fun. And I regret that I can't ever do that just once, because I can't, I know I can't be that person."
6. His favourite song is "the most beautiful record ever written" – but also makes him feel sick
Tom chooses Proof by the band I Am Kloot: "It's very special, it relates to alcohol, it relates to a slightly dysfunctional relationship with it, with other people. It's a very special band. It's a very special song… every time I hear it, it makes me feel almost sick in my stomach that it relates to a period that I am freely admitting that I have an issue with a substance."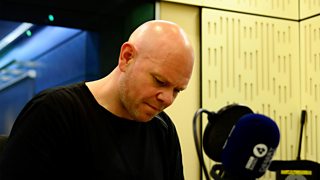 7. Swimming helped him lose weight – and gave him freedom
In recent years Tom has lost 12 stone: as his 40th birthday approached, he realised he needed to make radical changes. Exercise became very important. "I'd swim a mile and I'd swim it really slowly and I wouldn't give up, " he explains. "It's a big step to get into a swimming pool being that big. Being conscious of your body and worrying about it. It's not just going to the gym where you've got clothes on… you're just walking around in your pants essentially."
"Swimming is very good because you become isolated," he adds. "No one can talk to you, your phone doesn't ring. You're on your own."
8. He was a teenage TV actor – but ended up getting typecast
After joining a youth theatre group, Tom was offered small parts in TV dramas. He played a borstal boy in an episode of Miss Marple, hanging out with Joan Hickson. "Then I filmed two lots of kids TV shows for ITV, where in both of them I played a school bully and then London's Burning was the last thing I did," he recalls. My official title as the credits go up was: Thug 1: Tom Kerridge."
9. His desert island luxury will stop him looking like a notorious cartoon character
Tom shaves his head every day, and so requests a shaving kit as his one luxury item. He claims that without it, his hair "only grows at the sides, so when I'd finally get rescued I'd look like Krusty the Clown from The Simpsons."

More from Desert Island Discs