Main content
Vegan Sweet Potato Fritters
Vegan Sweet potato fritters
Sweet potato fritters
Ingredients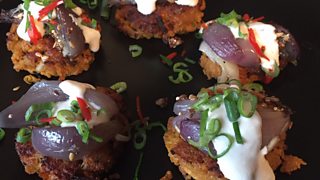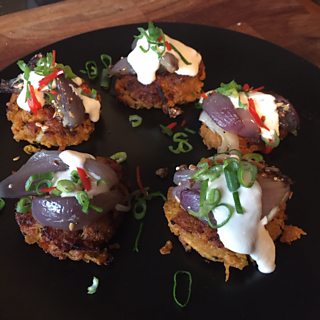 350g grated sweet potatoes
1 onion, peeled and finely sliced
½ teaspoon salt
1 teaspoon black onion seeds
1 teaspoon garam masala
½ teaspoon smoked paprika
2 tablespoons coconut milk
75g gram flour
oil for cooking
Method
Mix the onions and salt and set aside for 10 minutes to release juices.
Add the spices and coconut milk and mix well. Add the sweet potatoes and gram flour and mix well.
Take tablespoon sized balls of the mixture and flatten.
Heat half a thumb depth of oil in a pan over medium heat and cook the fritters in batches until crisp and golden. Keep warm in the oven while you cook the rest.
Roast onions and seeds
Ingredients
4 small red onions
1 tablespoon cooking oil
pinch salt
pinch smoked paprika
2 tablespoons mixed seeds
Method
Set oven to 180oc.
Peel the onions and keep the root intact.
Cut in half through the root then each half in 3 wedges.
Place on lightly oiled tinfoil and drizzle over oil, paprika and salt.
Gather up the foil in a loose parcel and bake for about half an hour or until onions are soft. Open up the parcel and sprinkle over the seeds and roast for a further 5 minutes.
Spoon onto the fritters and top with the vegan sour cream and some shredded scallions and chili to garnish.
Vegan Sour Cream
Ingredients
100g cashew nuts
pinch salt
juice 1 lemon
1 clove garlic, minced
1 teaspoon cider vinegar
Method
Soak the cashew nuts in cold water overnight.
Drain and blend with the salt, lemon juice, cider vinegar, garlic and a little water to a smooth puree.
Check seasoning.