Main content
Proms Poetry Competition 2019
Judged by Ian McMillan, presenter of Radio 3's cabaret of language The Verb; Judith Palmer director of the Poetry Society and poet Malika Booker.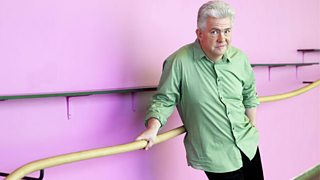 Ian McMillan
Words and music have always seemed like good pals to me.
We invite you to write a poem inspired by any piece of music in this year's Proms season. The winners in two age categories will be invited to attend both the concert and the Prom Plus before the concert on Thursday September 12th 2019 and hear their poems read by an actor for broadcast that night on BBC Radio 3.
Closing date for entries: midnight on Sunday August 18th 2019.
From a past winner:
Meredith Andrea, who won the 19+ competition in 2017 with her poem, 'Giving Birth to Monteverdi', says:
'The competition gave me an opportunity to participate creatively in the Proms by writing a poem inspired by Monteverdi's Requiem. When it ended up being broadcast together with other Proms-inspired poems from the competition I felt amazingly connected across time and space to the composer, musicians, fellow-poets and listeners - such an affirming experience.'
Here are 2018's winning poems
The winner of our 19+ category is Rachel Curzon whose poem GRASS LIKE HIS MOTHER was inspired by Brahms' A German Requiem.
After Brahms' Requiem
Denn alles Fleisch,
es ist wie Gras
though not the brittle shiftings
of a parched field,
those stiff yellows
scorched to dessication,
but the grass that leans,
restive, into crosswinds
and that beckons winter sun
to touch it gold.
Grass like his mother
praying at her sickroom window,
palms against the pane,
and blazing –
every finger bright
with light, or grace.
The winner of the 12-18 category is 18 year old Annabelle Fuller. Her winning poem, Ode to Oud, was inspired by the world premiere of Jessica Wells' Rhapsody for Solo Oud heard in the Ancient Rituals and New Tales Prom.
ode to oud
sliced like a pear.
pips pop between the strings and frets
and slide like incensed sand into my hair.
stone-walled and mortar-bared,
black, dusty, spare, breeze-borne,
like a rhythm running through a shadow, then ensnared.
mouth closed, the breaths of agar trees
remember the strip of bark and splay of leaf,
motions tressed and burdened like a frozen frieze.
dark freckled knuckles winking under silk -
spice-scented, deluged, warm-wind-draped -
lie hollow, like coconuts shorn of flesh and milk.
if I touched its warble I'd feel musk,
taste something coloured like sultana skin
and hear the breaking bawl of burnished husks.
it's gargling a throat of hot perfume.
spat at my helix, its dripping clothes my earlobes,
wandering wild, like a wave of wine in a sober room.
The challenge

All you have to do is to write a poem inspired by any piece of music in this year's Proms season.

There are two age categories: ages 12-18 and 19+.

Your poem will be judged by me and by the award-winning poet Malika Booker.

The winners will get the chance to have their poems read out at a Proms Plus event on Thursday September 12th with Malika, Judith Palmer, Director of the Poetry Society, and me. This will be broadcast on BBC Radio 3 and available as a Radio 3 Arts and Ideas download.

You'll also be invited to come to that night's Prom concert at the Royal Albert Hall.
My tips

Here's a few tips to help you on your way.

First: don't worry. People often worry about their poems; it's as though they're going to visit a fearsome auntie and they think they're going to do the wrong thing or speak too loudly or knock something over.

Don't worry: poetry is often about doing the wrong thing or speaking too loudly or knocking things over.

In other words: be bold with your work. Don't forget that in a competition it's often the startling poems, the ones that are a bit different, the ones that lead the reader down the garden path before surprising them with a treat that do well, because it's the unusual poems that float to the top.

So, think about the piece of music. How does it make you feel? Does it remind you of a place you've been to, a person you know? Does it feel like a story or a description or simply a bunch of words thrown into the air?

Any of those are fine: what I'm looking for is your personal response to a piece of music in the Proms. You don't have to tell me the tale of how the music got written or what the composer meant by it, unless you really want to.

Think outside the box as marketing people in bright ties and designer glasses say.

And remember: I want to be startled!

Two more things: It doesn't have to rhyme, but it can.

My personal challenge to you is: try hard to avoid the word music. That's not in the rules, that's just to make you think.
In a nutshell what you have to do
How to send in your entry

Entries must be sent by email to:

promspoetry@bbc.co.uk

by post to:

Proms Poetry Competition, Zone D 7th floor, New Broadcasting House Portland Place London W1A 1AA.

Entries must be no longer than 25 lines and must include a completed application form.

The opening date for applications is Friday 14th June 2019 and the competition will be launched on Radio 3's Breakfast programme that morning and talked about on The Verb on that evening.

The closing date for entries is midnight on Sunday 18th August 2019.

Any entries received after this date will not be entered in the competition.

Terms and conditions for the Proms Poetry Competition.

In case of any queries, contact us by email: promspoetry@bbc.co.uk
Radio 3's cabaret of the word, featuring the best poetry, new writing and performance