Main content
Poetry Competition
There were well over a hundred different musical performances that inspired our contestants writing this year. The most inspirational piece was Ralph Vaughan Williams' The Lark Ascending but we've also had many entries inspired by Leonard Bernstein's The Age of Anxiety, one of the pieces to mark Bernstein's centenary, the Folk Music around Britain and Ireland Prom and Daphne Oram's Still Point, inspired by the electronic work by Delia Derbyshire and her colleagues at the BBC Radiophonic Workshop. More female composers inspired you than in any other year…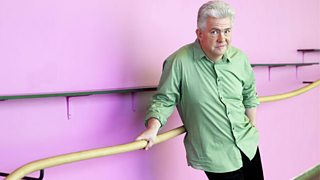 Ian McMillan
Words and music have always seemed like good pals to me
Judged by Ian McMillan, presenter of Radio 3's cabaret of language The Verb; Judith Palmer director of the Poetry Society and poet Helen Mort
The winner of our 19+ category is Rachel Curzon whose poem GRASS LIKE HIS MOTHER was inspired by Brahms' A German Requiem.
After Brahms' Requiem
Denn alles Fleisch,
es ist wie Gras
though not the brittle shiftings
of a parched field,
those stiff yellows
scorched to dessication,
but the grass that leans,
restive, into crosswinds
and that beckons winter sun
to touch it gold.
Grass like his mother
praying at her sickroom window,
palms against the pane,
and blazing –
every finger bright
with light, or grace.
The winner of the 12-18 category is 18 year old Annabelle Fuller. Her winning poem, Ode to Oud, was inspired by the world premiere of Jessica Wells' Rhapsody for Solo Oud heard in the Ancient Rituals and New Tales Prom.
ode to oud
sliced like a pear.
pips pop between the strings and frets
and slide like incensed sand into my hair.
stone-walled and mortar-bared,
black, dusty, spare, breeze-borne,
like a rhythm running through a shadow, then ensnared.
mouth closed, the breaths of agar trees
remember the strip of bark and splay of leaf,
motions tressed and burdened like a frozen frieze.
dark freckled knuckles winking under silk -
spice-scented, deluged, warm-wind-draped -
lie hollow, like coconuts shorn of flesh and milk.
if I touched its warble I'd feel musk,
taste something coloured like sultana skin
and hear the breaking bawl of burnished husks.
it's gargling a throat of hot perfume.
spat at my helix, its dripping clothes my earlobes,
wandering wild, like a wave of wine in a sober room.
From a past winner:
Meredith Andrea, who won the 19+ competition in 2017 with her poem, 'Giving Birth to Monteverdi', says:
'The competition gave me an opportunity to participate creatively in the Proms by writing a poem inspired by Monteverdi's Requiem. When it ended up being broadcast together with other Proms-inspired poems from the competition I felt amazingly connected across time and space to the composer, musicians, fellow-poets and listeners - such an affirming experience.'
Listen to programmes about the lives and works of some of the greatest classical composers.